Super Smash Bros. Ultimate overtakes Wii U console sales
Super Smash Bros. Ultimate has managed to topple the entire Wii U console sales.

Published Fri, Apr 26 2019 3:00 AM CDT
|
Updated Tue, Nov 3 2020 11:48 AM CST
An interesting stat has surfaced regarding Nintendo's Wii U and their newest flagship title Super Smash Bros. Ultimate. That new stats show that Ultimate has surpassed Wii U sales.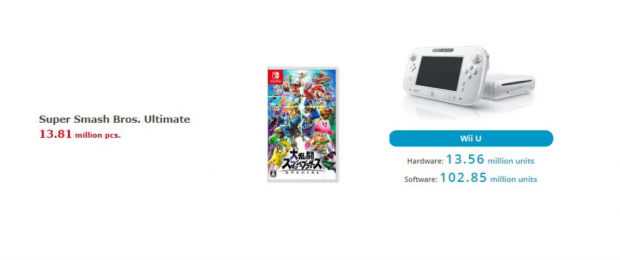 Super Smash Bros. Ultimate released back in early December last year, and since then the title has taken off and been extremely popular amongst not only the Smash Bros. community but also brand new fans. Smash Ultimate is the most popular Smash Bros. title and has reached a total sales margin of 13.81 million units. It has more than doubled the sales of the previous release in the series, Super Smash Bros. for Nintendo 3DS and Wii U which had 5.36 million copies sold worldwide.
Changing up the comparisons now, we look to Nintendo last console release, the Wii U. The Wii U was quite the flop when looking at sheer sales statistics as the console only managed to pull in 13.56 million units which means that Super Smash Bros. Ultimate has beaten the sales of the Wii U by 250,000 units. I wouldn't be surprised if Smash Ultimates sales kept on increasing and eventually reached 20 million units, now that would be quite the achievement for Nintendo as well as Director of Smash Bros. Masahiro Sakurai.
Related Tags