Ubisoft gifts Assassin's Creed: Unity after Notre Dame fire
Ubisoft is giving away free copies of Assassin's Creed: Unity in wake of Notre Dame fire.

Published Wed, Apr 17 2019 4:01 PM CDT
|
Updated Tue, Nov 3 2020 11:48 AM CST
To help celebrate and inspire donations to rebuild the fire-damaged Notre-Dame cathedral, Ubisoft is giving away a free copy of Assassin's Creed: Unity.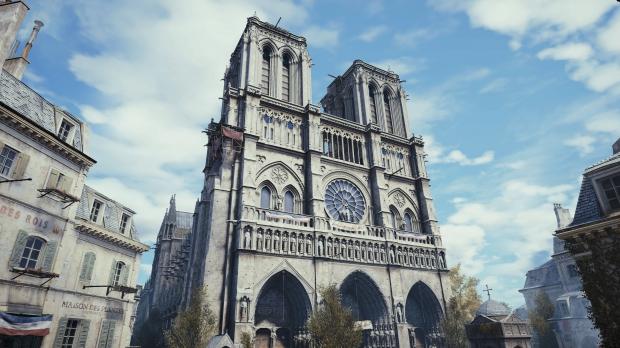 On Monday, one of the most iconic edifices in history caught on fire: France's beloved Notre-Dame cathedral. The fire burned for 12 hours, collapsing the Notre-Dame de Paris' mighty spire. Now French games-maker Ubisoft has stepped in with a mighty 500,000 Euro donation to help restoration efforts, and wants to remind gamers of Notre-Dame's majesty by giving everyone a free copy of the French Revolution-based Assassin's Creed: Unity.
From now until April 23, PC gamers can snap a free digital copy of AC: Unity via uPlay or the Ubisoft Store. Simply go to this page and tie it to your account, or log into uPlay and select the promo under your games section. "In light of the devastating fire at the Notre Dame de Paris, Ubisoft wants to give all gamers the chance to experience the majesty and beauty of the cathedral through Assassins Creed Unity on PC," Ubisoft writes.
This is a great move on Ubisoft's part and I hope gamers everywhere will consider donating to the cause. The restoration pool of funds has reached over $1 billion so far, CBS News notes.
As the smoke clears on the events that unfolded on Monday at the Notre-Dame de Paris, we stand in solidarite with our fellow Parisians and everyone around the world moved by the devastation the fire caused. Notre-Dame is an integral part of Paris, a city to which we are deeply connected. Seeing the monument in peril like this affected us all.

In light of Monday's events, we will be donating 500,000 Euros to help with the restoration and reconstruction of the Cathedral. We encourage all of you who are interested to donate as well. In addition, we want to give everyone the chance to experience the majesty and beauty of Notre-Dame the best way we know how. For one week, we will be giving Assassin's Creed Unity away free on PC, for anyone who wants to enjoy it. You can download it now for Uplay PC here: https://assassinscreed.com/unity-notredame/
Related Tags