New $250 disc-less Xbox One S is a bad deal
Microsoft's new disc-less Xbox really isn't a value proposition.

Published Tue, Apr 16 2019 10:35 PM CDT
|
Updated Tue, Nov 3 2020 11:48 AM CST
Microsoft today announced its new digital-only Xbox One S console, but the price just isn't right.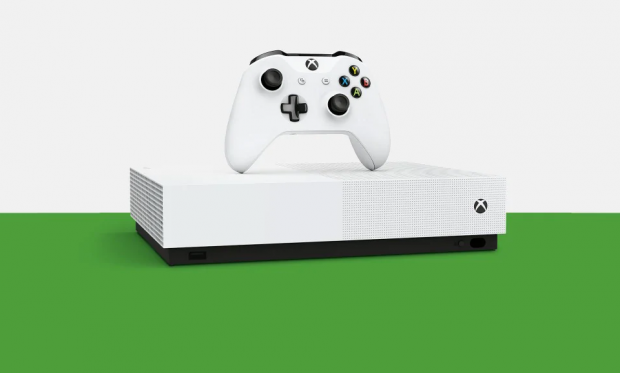 The new disc-less Xbox One S isn't a good deal. The system costs $250, which Microsoft asserts is $50 below the $299 MSRP of the original Xbox One S, but retailers typically sell the system for as low as $199. Shaving off a huge portion of the system's multimedia capabilities in favor of a $50 "savings" just isn't adding up, especially when retailers like Rakuten are selling the Xbox One S bundled with Battlefield V for $199. Unlike the PS4 Pro or the PS4, 4K UHD Blu-ray playback is a big bonus for the Xbox One S. Except of course for this particular model that's not really saving you much cash.
The console, dubbed the rather unfortunate Xbox One S All Digital Edition (or Xbox One SAD Edition), isn't an upgrade. It's exactly the same as a stock Xbox One S and sports identical internal hardware, specs, and performance. The big difference is that it's digital-only, which is a tactical move on Microsoft's part to pull gamers into its lucrative billion-dollar ecosystem of services, subscriptions, game sales, and advertisement revenues.
The console comes with a special offer for Game Pass, which is nice, but it doesn't include Xbox LIVE Gold.
The idea is to reel players into Game Pass, of which a multitude of its games require Xbox LIVE Gold, and keep them hooked over time. Naturally consumers won't be able to buy used games from retailers and play them on the disc-less console, so instead they'll just stay anchored into Game Pass or buy from the Xbox Store for their experiences. This benefits Microsoft tremendously.
Microsoft even says this $250 price is "more accessible" and promises the digital-only Xbox will maintain a $50 price difference between the regular S and Xbox One X models. So when the others drop in price, this one should too. Too bad the system already needs a price cut.
"We realize price plays an important role in providing the opportunity to make console gaming more accessible to more gamers around the world. Available for pre-order today at $249.99 USD, the Xbox One S All-Digital Edition is $50 USD less than Xbox One S, and we expect to maintain at least that price difference between the two consoles going forward," Jeff Gattis, General Manager of Platform and Devices Marketing, said on Xbox Wire.
So why buy the Xbox One S All Digital Edition?
The system comes with three first-party Microsoft games that're all live service titles monetized in some way: Sea of Thieves, Minecraft, and Forza Horizon 3. This is not a mistake--Microsoft chose these online-driven games on purpose. They require Xbox LIVE Gold to play with others online, making the Xbox One S a doorway into more service purchases. And of course they typically have microtransactions, which are yet another big part of Microsoft's online empire.
Yes, the value of these games could be an argument to the higher price. But bear in mind these aren't marquee titles like Halo 5, and are games that Microsoft sells themselves, so they control the price.
Microsoft wants as many gamers to embrace its digital online framework as possible; not only do they make more money on a per-game basis because there's no manufacturing of discs or cases, but they get to keep 100% of all revenues of first-party games.
We originally predicted the digital-only Xbox One S would sell for $150. This is a sweet spot that gives consumers an actual reason to buy into the product, and further buy into digital-only services like Xbox Game Pass. Right now Game Pass is one of the most potent tools in Microsoft's belt, and the company is keen on leveraging it as much as possible.
The disc-less Xbox One S launches on May 7, 2019 for $250--a price we think is way too high.
Related Tags