Twitch.tv update adds 4-person in one screen 'Squad Stream'
Twitch has just announced a new feature that will allow for 4 content creators to livestream together in the one screen.

Published Mar 28, 2019 3:00 AM CDT
|
Updated Tue, Nov 3 2020 11:49 AM CST
Ever wondered what it would be like to livestream The Division 2 from all 4 perspectives in the one screen? Well that will soon be possible as Twitch.tv will soon be adding 'Squad Stream' and it is exactly how it sounds.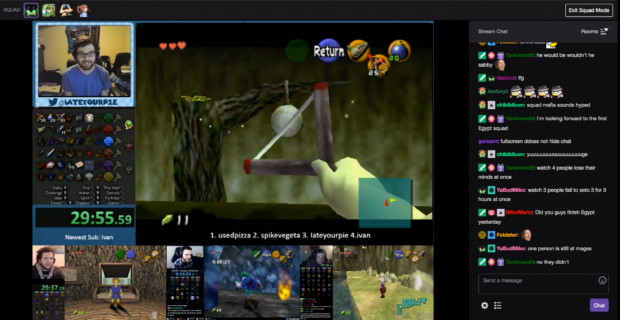 Twitch.tv will be rolling out a new update to their streaming platform that will allow for content creators to team-up with each for epic 4-person live streams. The new 'Squad Stream' will allow for Twitch.tv partners to stream-up with eachother and all play the desired games within the same window for the viewer. This will mean that viewers will be able to enjoy watching their favorite streamers play together within the same window and cycle between which specific player they want to watch in the primary slot.
Twitch.tv has throughoutly explained what 'Squad Stream' is in their new blog post. For those wondering about how view counts will work, Twitch answer this in the FAQ they provide at the bottom of their post. They say "Any viewership you receive when your video player is in the primary slot will count towards your channel stats and be reflected in your channel analytics and stream summary." Twitch.tv also provides a list of streamers that will feature the four-person streams over the next couple of weeks.
3/27, 4:00 PM - 6:00 PM: shroud, just9n, and Skadoodle streaming Apex Legends

3/27, 8:00 PM - 10:00 PM: Anthony_Kongphan, Grimmmz, and Caliverse streaming Battlefield V

3/27, 10:00 PM - 12:00 AM: Loserfruit, Crayator, AngelMelly, and mrfreshasian streaming Fortnite

3/28, 1:00 PM - 3:00 PM: antphrodite, Ellektrikk, MaryJLeeee, and monkeyism streaming tarot card readings

3/29, 8:00 AM - 10:00 AM: kennyS, shoxiejesuss, SmithZz, and jackzj streaming CS:GO

3/29, 3:00 PM - 5:00 PM: twosenseless, Shticky, iinnkone, and VooDoo_val streaming Art

4/2, 4:30 PM - 6:30 PM: Northernlion, Last_Grey_Wolf, DanGheesling, and michaelalfox streaming Satisfactory

4/2, 6:00 PM - 8:00 PM: Ellohime, CobaltStreak, and Diction

4/3, 2:00 PM - 4:00 PM: pokimane, LilyPichu, DisguisedToast, and Yassuo streaming League of Legends

4/4, 10:00 PM - 12:00 AM: GassyMexican, BurkeBlack, and CletusBueford streaming Sea of Thieves

4/6, 8:00 PM - 10:00 PM: Xmiramira, itsmeTroi, Keeyuh, and MsAshRocks streaming The Sims 4

4/7, 4:00 PM - 6:00 PM: TheHungerService, BanzaiBaby, DomesticDan, and WorkingChef streaming Cooking
The FAQ for Squad Stream can be reached here.
Related Tags