Today at GCD 2019, Oculus announced the new Oculus Rift S virtual reality headset.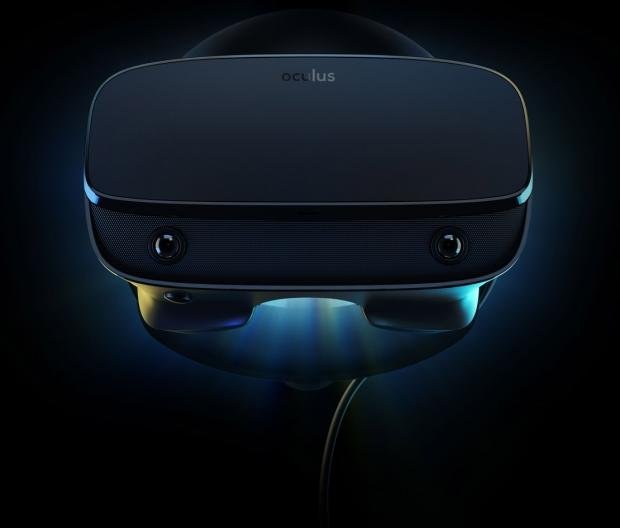 The Oculus Rift S isn't a dramatic jump over the existing Rift insofar as power, and isn't what you'd expect from a true next-gen successor. If anything the Rift S is an iterative refresh over Facebook's original HMD and serves as the new dedicated desktop-powered model. The Rift S will sit higher above the middling self-contained $199 Oculus Go in the company's VR hierarchy.
The Oculus Rift S has quality-of-life upgrades across the board including convenient Oculus Insight inside-out motion tracking built right into the headset, alleviating the need for external sensors. Using five sensors built into the HMD, Oculus Insight tracks and maps out physical environments in real-time to preserve immersion for room-scale VR experiences. The Rift S' visuals have been upgraded too.
It sports a single LCD panel with boosted 2560x1440 resolution and improved colors and pixel density. The headset uses the same higher-end VR optics found in the new wireless Oculus Go, which have been optimized to eliminate the screen door effect.
Oculus did something interesting with the headset's built-in audio, too. Instead of having headphones like the previous Rift, the Rift S actually beams sound though the headset's straps. This should make things sound more natural and create dual immersion needed for external awareness.
UploadVR notes the Rift S will have a 80Hz refresh rate--down from the original Rift's 90Hz--and we still don't know much about field of view.
The Rift S' required PC specs are still the same. Users will need at least an NVIDIA GeForce GTX 1050Ti or an AMD RX 470 (or greater), 8GB+ RAM, and an Intel i3-6100 / AMD Ryzen 3 1200, FX4350 CPU or greater.
Oculus plans to release the Rift S in Spring 2019 for $399.