NVIDIA's gaming division bleeds out, revenues down 45%
NVIDIA gaming revenues down 45% with lower-than-expected sales on GeForce RTX 2070 and RTX 2080.

Published Sun, Feb 17 2019 7:47 PM CST
|
Updated Tue, Nov 3 2020 11:49 AM CST
NVIDIA hasn't had the best time with its launch of the GeForce RTX series of graphics cards, which rode in on the tail end of the cryptocurrency market falling into a black hole. Well, things have just gotten worse.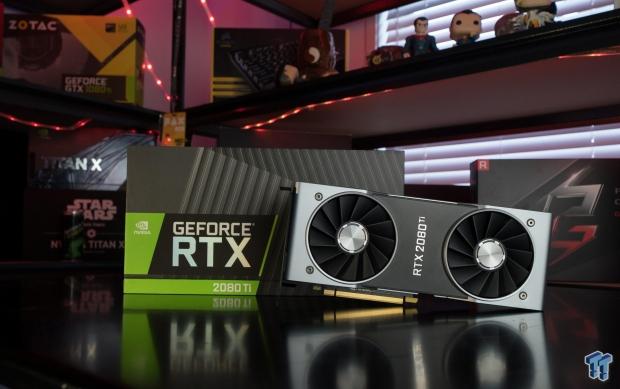 The company has just reported its fourth quarter and fiscal 2019 earnings, with a gigantic 45% year-over-year loss in gaming revenue. NVIDIA's quarter is down 24% in total, with gaming down 45% but professional visualization up 15%, datacenter revenue up 12% and automotive revenues up 34%. OEM and IP revenues dropped hard as well, down 36% for the quarter.
NVIDIA founder and CEO Jensen Huang said that the GeForce RTX launch is a historic one, as it was the first time in NVIDIA's history that it launched with only high-end models first. Normally we see the two higher-end models released with the Ti variant coming later, but this time it launched with the RTX 2080 and RTX 2080 Ti out of the gate.
The mainstream GeForce RTX 2060 was not released at launch, as there were far too many GTX 1060s still on the market, something that was a symptom of the cryptocurrency mining explosion, and then implosion. Huang explained: "The inability to launch [the] 2060 was a big inhibitor for us, but we did so at CES". Speaking of GTX 10 series inventory, NVIDIA has still got oversupply issues in the channel that won't be sorted until the end of March. NVIDIA also talked about macro-economic pressures in China as the country fights the Trump administration and its trade war.
The gaming segment of NVIDIA represents a rather large 43% of its total revenue, so a massive 45% year-over-year dip isn't something small... it's something pretty considerable for NVIDIA to experience. We should see things start to change this year, with increased GeForce sales from the RTX 2060 and RTX 2070 cards, as well as the soon-to-be-released GeForce GTX 16 series cards.
Related Tags