Metro Exodus day one patch packs PC-specific updates
Metro Exodus Day-1 Update fixes a bunch of stuff, adding DLSS support and much more for the PC version.

Published Fri, Feb 15 2019 12:12 AM CST
|
Updated Tue, Nov 3 2020 11:49 AM CST
Metro Exodus will have a 2GB day-one update that developer 4A Games is blasting out to gamers, with the update fixing up a bunch of stuff on all versions of hte game and a bunch of PC-specific updates as well.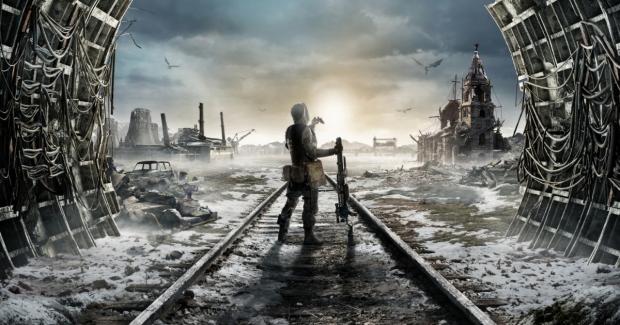 On the PC version of Metro Exodus we have improved DLSS thanks to updated learned data from NVIDIA, RTX improverments and bug fixing, tuned HDR saturation, additional HUD removal options in Ranger Mode, and added Motion Blur options. The full list of updates is after the jump.
I'll be starting my DLSS testing early next week on all GeForce RTX cards, as well as 8K benchmarking of Metro Exodus (and the nearly-released Far Cry New Dawn, too).
ALL PLATFORM UPDATES:
Added more filters for Photo Mode

General bug fixes

General performance optimisations

General balance improvements

General polish improvements

Improved VO and subtitles timing in all languages
PC SPECIFIC UPDATES:
Tuned HDR saturation

RTX Improvements / Bug Fixing

Added DLSS Support

Additional HUD removal options (coming soon to console) when playing in Ranger Mode

Added Motion Blur options (coming soon to console)
ADDITIONAL PC FIXES SINCE REVIEW CODE WAS SENT:
Fixed Locking of player input after scene of rescuing Yermak

Removed v-sync option from benchmark launcher

Tuning and fixes for Atmos audio system

Fixed memory corruption in DX12

Fixed crash on launching game on old AMD CPUs

Fixed crash after changing of resolution and Shading Rate to 4K/4x on Video cards with 2Gb and less

Fixed blurred UI when DLSS is enabled

Fixed visual artifacts for RTX high mode

Fixed input lock in when patching gas mask during combat

Fixed forcing to V-Sync on after alt-tabbing the game running at maximal available resolution for the monitor

Fixed crash when pressing ALT + Tab during start videos

Fixed forcing of V-SYNC mode if the game resolution is different than the desktop

DLSS can be applied in the Benchmark

Tuned DLSS sharpness to improve image quality

Updated learned data for DLSS to improve image quality with DLSS on
Related Tags