PlayStation VR sparks holiday VR sales
Sony's PlayStation VR is still a strong driver for virtual reality headset sales and adoption.

Published Sun, Jan 27 2019 10:36 PM CST
|
Updated Tue, Nov 3 2020 11:49 AM CST
Sony's PlayStation VR continues pushing consumer interest in virtual reality and sparks sales in 2018's holiday quarter.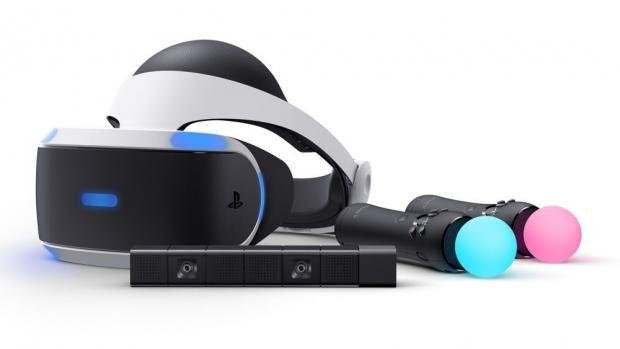 The PS4-powered PlayStation VR headset helped push 2018's total virtual reality revenues up to $3.6 billion, according to figures from analyst firm SuperData. The data clearly shows that consumers favor lower-cost hardware that's more accessible than enthusiast PC-powered models. In 2018's holiday quarter, Sony's VR HMD sold 700,000 units worldwide, followed by the wireless $199 Oculus Go with 555,000 sales. More demanding VR headsets like the Oculus Rift and HTC Vive sold 160,000 and 130,000 units respectively.
The PlayStation 4's staggering 91.6 million install base is a major factor in PSVR adoption and serves as a widespread foundation; so many people already own a PS4 that buying into the VR ecosystem is made much easier and less expensive than the Rift's of Vive's total PC-and-headset cost. Of course Black Friday sales also helped push PSVR adoption.
SuperData expects VR earnings to jump thanks to the Oculus Quest all-in-one headset, which essentially mimics the PSVR's current benefits and selling points.
The firm predicts 1.3 million Oculus Quests will be sold throughout the year/
"2019 is poised to be an important year for VR with the introduction of the Oculus Quest," said Stephanie Llamas, Head of VR/AR at SuperData. "Device tethering to consoles and PCs has been an obstacle for consumer adoption, so a standalone headset like the Quest could be a real game changer. Likewise, the introduction of new headset technology like eye tracking in the HTC VIVE Pro Eye is likely to accelerate growth of enterprise usage."
Sony is also working on a PlayStation VR successor that may use eye-tracking technology to curb motion sickness. The new headset will likely be powered by the next-generation PlayStation 5 console.
Related Tags