Samuel L. Jackson lets slip Captain Marvel can time travel
Fury himself confirms that Captain Marvel has the ability to time travel, is she the key to Avengers: End Game?
Published Jan 9, 2019 7:00 AM CST
|
Updated Tue, Nov 3 2020 11:49 AM CST
1 minute & 14 seconds read time
The launch date for Marvels next important character to take the spotlight in the Marvel Cinematic Universe is almost upon us, Captain Marvel is about to take the stage and Samuel L. Jackson has just confirmed she can time travel.
Samuel L. Jackson was conducting an interview with Entertainment Tonight when the actor was asked a series of questions regarding the upcoming Captain Marvel movie. One of the questions that Jackson answered was what qualities does Captain Marvel have to be the right first female-led superhero film from Marvel. Jackson answered "She's pretty much the strongest character -- in terms of someone with powers are able to do things -- in the Marvel universe. So, for Carol Danvers to be that person and for Brie to become that person, it's gonna be a dynamite thing."
Jackson continues and says "I mean, [the Avengers] are up against some really, really tough odds right now -- we saw throughout Infinity War -- so now we know that we need something that's as powerful as Thanos. And at some point, we'll find out how powerful she is and all the things that she's capable of. She's one of the few people in the Marvel universe that can time travel, so..." This is quite interesting and raises the question as to if Marvel have planned on dropping these small seeds of information right before movie launch to stir up talk. If so smart marketing, because I'm definitely intrigued as to how this will all play out in Avengers: End Game if it turns out to be true.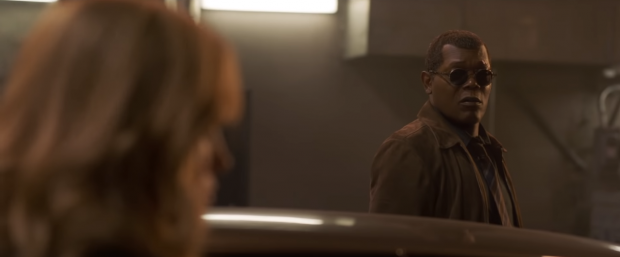 Related Tags