PC gaming catches up to console earnings in 2018
2018's total games industry earnings see PC gaming sitting closely behind consoles.

Published Tue, Dec 18 2018 5:48 PM CST
|
Updated Tue, Nov 3 2020 11:49 AM CST
PC gaming continues gaining momentum even as console earnings grow throughout 2018.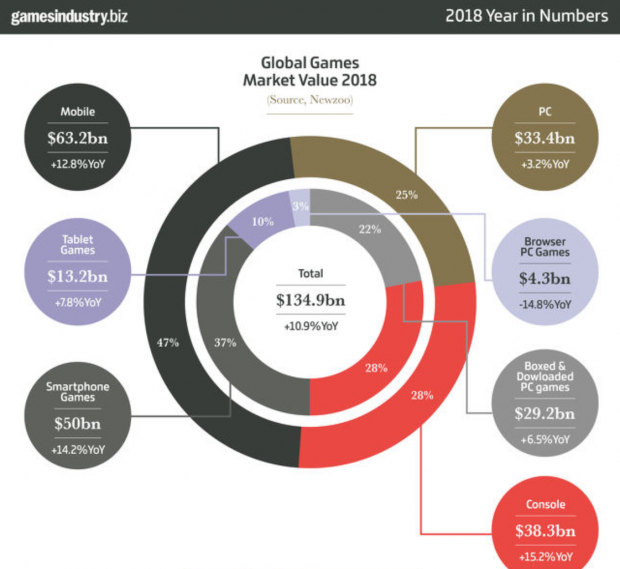 Total game revenues are set to grow over time as more and more publishers tap the lucrative live service market, and 2018 is another big year for the industry across all platforms. Total global mobile, console and PC earnings for 2018 sit at $134.9 billion as per GamesIndustry.biz data gleaned from analyst firm Newzoo, up a strong 10.9% year-over-year.
What's interesting is how PC gaming is closing the gap between it and console earnings, the latter of which typically reign as the dedicated home gaming king. PC gaming earned 25% of total 2018 revenues, or $33.4 billion, and represents a rise of 3.2% year-over-year. The bulk of these revenues were from actual full game downloads from stores like Steam and GoG.com, and boxed PC sales ($29.2 billion or 22%) as online browser-based games ($4.3 billion or 3%) continue getting eclipsed by their forebears. This number is likely set to rise as other games-makers launch their own storefronts and kick off the PC gaming revenue split wars.
Console gaming is still in the lead, but not by much, at least percentage-wise.
Consoles earned $38.3 billion in 2018, or about $4.9 billion more than PC gaming thanks to a wider selection and installed base of hardware. Consoles make up 28% of total yearly earnings compared to PC gaming's 25%, and saw a much more pronounced revenue spike of 15.2% over last year.
PC gaming could get closer and closer to console's market share as gamers buy content from the newly launched Discord and Epic Games stores, but the sheer volume of Switch, PS4 and Xbox One systems should continue outpacing the desktop- and laptop-driven segment.
Related Tags