Resident Evil 2 Remake - Unstoppable Tyrant Monster trailer
Capcom has released a new trailer showcasing the 'Unstoppable Tyrant' monster in Resident Evil 2 Remake.

Published Wed, Dec 5 2018 3:00 AM CST
|
Updated Tue, Nov 3 2020 11:50 AM CST
Will you be able to escape the Unstoppable Tyrant from the new gameplay trailer that has been released onto the Resident Evil YouTube Channel? Claire barely could...
The video begins with our friend Claire Redfield wandering through dark corridors only to be ambushed by a monster almost double the size of her vertically. The Tyrant wears a plain black hat and a long trench coat and only moves at a walking speed which is both eerily creepy and helpful. Helpful in the way for kitting him around for some damage, but creepy because I can't help but feel as if the speed of the walk gives off the vibe that he knows he is unstoppable.
After Claire pumps him with some rounds with both her hand gun and grenade launcher we are teleported to another setting where we run into the same Tyrant. Claire maneuvers around a room dodging a few zombies only to get stuck upstairs, the Tyrant then pick Claire up by her head and then we see an awesome scene where Claire takes out her knife and sticks the Tyrant in the arm. The creepiest thing is that Tyrant barely flinches and just casually looks at the wound she has caused him, almost as if he is purposely giving Claire time to run before he inevitably catches up once again. Resident Evil 2 Remake is scheduled for release on January 25th, 2019.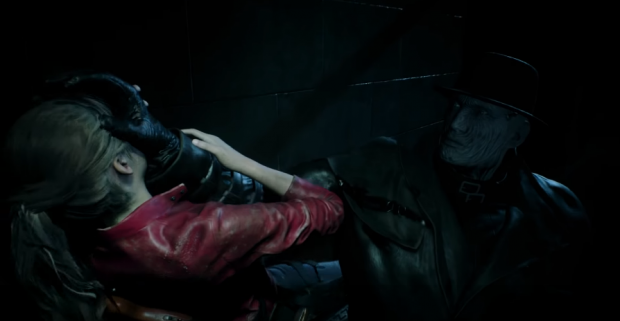 Related Tags