Thanks to a new partnership with Microsoft, over 50 of Razer's gaming mice and keyboards can be used on the Xbox One...but the RGB-obsessed company is making something special for the console.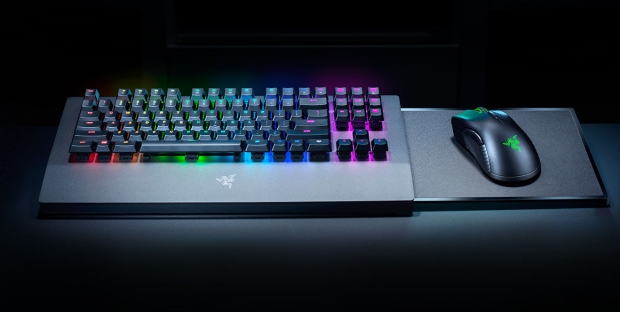 Microsoft's plan to merge Xbox console and PC gaming has made tremendous progress. They've managed to wrap both platforms together digitally via Xbox LIVE and other services, and now the lines are getting more blurred thanks to official Xbox One peripheral support. Razer is the first to partner with Team Green, and is working on a special bespoke wireless mouse and keyboard that aims at delivering PC gaming-level performance (and lots of RGB flair).
Razer is building this new peripheral combo from scratch specifically for the Xbox One, so expect console-oriented designs that take couch gaming into account. No specifications or exact details are known but Razer did show off a glimpse at the Xbox keyboard and mouse ahead of its big CES 2019 reveal.
But there's some caveats. Games must first enable mouse and keyboard control schemes before the peripherals can actually do anything in-game. Right now only 14 games support Razer peripherals, but this list will undoubtedly grow over time. Devs have full control over how to integrate KB&M support in their games and can even tap the RGB color profiles to enable dynamic lighting effects while playing.
"It's important to note that mouse and keyboard support for games is added on a title-by-title basis, entirely at developers' discretion. For all other titles, nothing changes. Mouse and keyboard input is not enabled by default for games. Each development team knows their titles best and we support them in creating the right experience for their games as they see fit, to ensure an optimal and fair gaming experience," Microsoft wrote on the keyboard and mouse announcement post.
Razer will show off its custom Xbox One keyboard and mouse combo at CES 2019.
"We are proud to partner with Microsoft to bring you the world's first wireless keyboard and mouse designed for Xbox One. Equipped with our industry-leading gaming technologies, discover a new way to play in your living room," Razer said on its website.