AMD has been kicking some serious ass in the CPU world in the last couple of years leaving Intel lagging behind, until now. Intel has just announced its new Cascade Lake-powered Xeon CPUs with up to 48 cores of performance.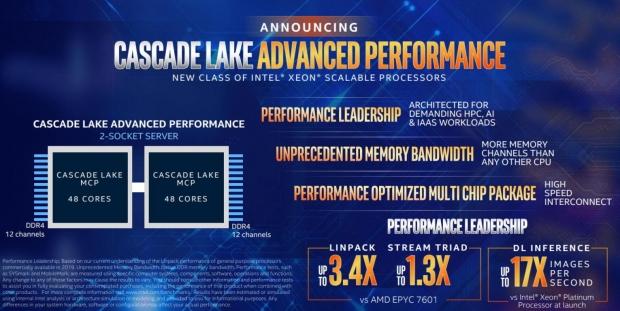 Intel is launching the new Xeon E-2100 processor and it comes with up to 48 cores and can be used in dual CPU configurations for 96 cores of huge performance for HPC/AI workloads. Intel is including 12 DDR4 channels for mass amounts of RAM, with 24 DIMMs on dual CPU motherboards supporting up to 3TB of RAM.
You can even configure the new Xeon CPUs with Intel Optane memory, filling 24 DIMMs of this would allow for 12TB of system memory which is just ridiculous. 96 threads of CPU power with 12TB of RAM is just... incredible. Intel is still using its 14nm process for the new Cascade Lake-based Xeon processors, while AMD is about to hit 7nm with its upcoming EPYC 'Rome' CPUs.
AMD's upcoming second-gen EPYC processors on 7nm should offer up to 64C/128T, beating out Intel's new 48-core Xeon. Strangely, Intel hasn't said whether it's new Xeon CPUs have Hyper-Threading... which is very, very weird.
All eyes are now on AMD as they ramp up to the second-gen EPYC 'Rome' CPUs on 7nm.