Nintendo has revealed throughout their financial results briefing that their amiibo collection has sold upwards of 50 million units. Super Smash Bros. Ultimate hasn't even released yet, so this number is sure to go much higher.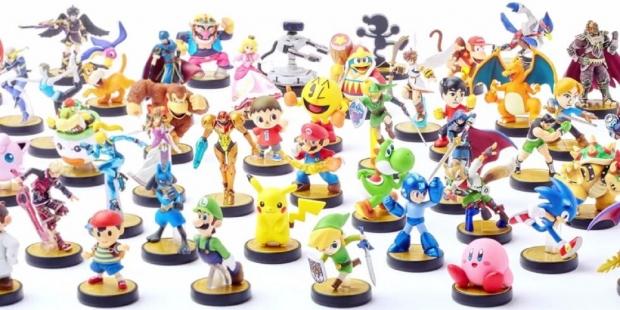 According to the recently released financial results released by Nintendo, their statues that blend gaming into real life titled 'amiibos' have sold upwards of 50 million units worldwide. Here is what was said throughout the results, "amiibo figure total sell-through has reached approximately 50 million units." The paragraph continues to explain that "All characters that appeared in the Wii U and Nintendo 3DS versions of Smash Bros. have been released as amiibo figures."
Nintendo also details that once Super Smash Bros. UItimate is released, we will see the debut of "three new amiibo of characters who are appearing in the game as fighters for the first time."This is of course Inklings, Ridley, Wolf and more unannounced characters. Courtesy of Destructoid, within this full post is a complete list of every amiibo figure that has been released, and that is going to be released. For more information regarding Nintendo's sales figures, visit the official financial results briefing here.
In other news about amiibos, the Diablo III: Eternal Collection has had amiibo support confirmed, so we can add some Diablo characters to this long list below.
Wave 1 (November 2014):
Mario

Peach

Yoshi

Donkey Kong

Link

Kirby

Fox

Samus

Pikachu

Wii Fit Trainer

Villager

Marth
Wave 2 (December 2014):
Zelda

Diddy Kong

Luigi

Little Mac

Pit

Captain Falcon
Wave 3 (February 2015):
Toon Link

Ike

Lucario (Toys "R" Us exclusive)

King Dedede

Bowser

Mega Man

Sheik

Shulk (GameStop exclusive)

Rosalina & Luma (Target exclusive)

Sonic

Meta Knight (Best Buy exclusive)
Mario/Mario Party 10 wave (March 2015):
Mario

Luigi

Peach

Yoshi

Bowser

Toad

Gold Mario (Walmart exclusive)
Wave 4 (May 2015):
Robin

Lucina

Pac-Man

Ness (GameStop exclusive)

Wario

Charizard

Jigglypuff (Target exclusive)

Greninja (Toys"R"Us exclusive)

Inkling Boy

Inkling Girl

Squid (included with the Splatoon 3-pack)

Silver Mario
Wave 5 (July 2015):
Wave 6 (September 2015):
Bowser Jr.

Dr. Mario

Zero Suit Samus

Ganondorf

Olimar

Mr Game & Watch

R.O.B.

R.O.B. Famicom variant (Japan)

Duck Hunt
Super Mario Bros. 30th Series (September 2015):
Mario Classic

Mario Modern
Yoshi's Woolly World (Fall 2015):
Yarn Yoshi (Green)

Yarn Yoshi (Pink)

Yarn Yoshi (Blue)
Chibi-Robo!: Zip Lash (Fall 2015):
Skylanders: SuperChargers (Fall 2015):
Hammer Slam Bowser

Turbo Charge Donkey Kong

Dark Hammer Slam Bowser

Dark Turbo Charge Donkey Kong
Animal Crossing (Holiday 2015):
Digby

Reese

Tom Nook

K.K. Slider

Lottie

Cyrus

Isabelle

Mabel
Wave 7 (November 2015):
Mii Gunner

Mii Swordfighter

Mii Brawler

Falco

Mewtwo

Mega Yarn Yoshi ($39.99)
Year 1 amiibo total: 83
Yacht Club Games (December 2015 EU, January 2016 US):
Wave 8 (January 22, 2016):
Lucas

Mr. Resetti

Blathers

Kicks

Celeste
Mega Man Legacy Collection Bundle (February 2016):
Wave 9 (March 2016):
Ryu

Roy (GameStop exclusive)

Wolf Link and Midna

Timmy and Tom Nook (Target exclusive, one figure)

Rover

Kapp'n
Kirby + Isabelle Wave (June 2016):
Kirby

Meta Knight

King Dedede

Waddle Dee

Isabelle - Summer Outfit
Splatoon Wave 2 (July 2016):
Inkling Boy (Purple Hair)

Inkling Girl (Green Hair)

Squid (Orange)

Callie (2-pack)

Marie (2-pack)
Monster Hunter Wave (October 2016 - Japan only):
One-Eyed Rathalos (Male Rider)

One-Eyed Rathalos (Female Rider)

Nabiru
Mario Wave 2 (November 2016):
Daisy

Waluigi

Boo

Wario (new pose)

Rosalina (new pose)

Donkey Kong (new pose)

Diddy Kong (new pose)
Zelda Wave (December 2016):
8-Bit Link

Ocarina of Time Link

Toon Link (2-pack)

Toon Zelda (2-pack)
Monster Hunter Wave 2 (December 2016 - Japan only):
Qurupeco and Dan

Barioth and Auyria

Rathian and Cheval
Year 2 amiibo total: 123
Yarn Yosh Wave 2 (January 2017):
BoxBoy Triple-Pack with amiibo (February 2017 - Japan only):
Legend of Zelda: Breath of the Wild Wave (2017):
Archer

Rider

Bokoblin

Zelda

Guardian
Fire Emblem Wave 1 (May 2017):
Alm (2-pack)

Celica (2-pack)
Zelda Wave 2 (June 2017):
Majora's Mask Link (Best Buy exclusive)

Twilight Princess Link (GameStop exclusive)

Skyward Sword Link (Amazon exclusive)
Splatoon 2 Wave (July 21, 2017):
Inkling Girl

Inkling Boy

Inkling Squid
Final Smash Wave (July 21, 2017):
Cloud

Cloud Player 2 (GameStop exclusive)

Corrin

Corrin Player 2 (Amazon exclusive)

Bayonetta

Bayonetta Player 2 (Best Buy exclusive)
Hey! Pikmin Wave (July 28, 2017):
Metroid: Samus Returns Wave (September 15, 2017):
Fire Emblem Warriors Wave (2017):
Mario & Luigi Superstar Saga + Bowser's Minions Wave (2017):
Super Mario Odyssey Wave (October 27, 2017):
Wedding Mario

Wedding Peach

Wedding Bowser
Zelda Breath of the Wild Wave 2 (November 2017):
Daruk

Mipha

Revali

Urbosa
Mario Cereal (December 2017):
Year 3 amiibo total: 159
Detective Pikachu (March 2018):
Splatoon Wave 3 (2018):
Pearl (2-pack)

Marina (2-pack)
Shovel Knight Wave 2 (2018):
Specter Knight (3-pack)

Plague Knight (3-pack)

King Knight (3-pack)
Dark Souls (2018):
Mega Man 11 (2018):
Splatoon 2 Octoling Wave (December 2018):
Octoling Boy

Octoling Girl

Octoling Squid
Super Smash Bros. Ultimate (2018):
Ridley

Inkling

Wolf

Daisy

Ice Climbers

Pichu

Simon Belmont

Richter Belmont

King K. Rool

Chrom

Dark Samus