Atari 2600 handheld retro-izes holiday season
Atari adds some nostalgic goodwill to man with a portable old-school Atari 2600...but it runs on AAA batteries.

Published Sun, Oct 21 2018 1:36 PM CDT
|
Updated Tue, Nov 3 2020 11:50 AM CST
Atari is further branching into the handheld market with a portable Atari 2600, complete with classic games and 1970's wood paneling.
The Atari Retro Handheld aims to bring old-school gaming on-the-go similar to Nintendo's popular Switch NES service (only without online connectivity). The device is basically a $45 (35 GBP) small, fits-in-your-pocket emulator that runs Atari 2600 games. It features an iffy-looking "joystick"/circular D-pad that's more convex than a 3DS stick, a 2.4-inch screen, and comes pre-loaded with 50 retro games like Centipede, Asteroids, Pong, Breakout, Missile Command, and even all three Swordquest games.
It can also hook up to your TV via an A/V cable for home play, but don't expect dual-screen action. The handheld is a cheaper and more affordable old-school arcade machine that could be competitive in a sea of higher-cost retro mini-consoles like Nintendo's NES and SNES Classic Editions and Sony's upcoming $100 PlayStation Classic.
But cheap is the key word here. The Atari 2600 portable runs on AAA batteries, not rechargeable lithium ion, and brings to mind the power-sucking prowess of Nintendo's Game Boy. Really this is just a plug and play console you can take on the go.
Right now the Atari Retro Handheld is only available for pre-order in the UK and there's no word yet on a U.S. release. In fact it's only listed on Atari's UK site and there's no mention of it on the default Atari.com homepage.
The Atari 2600 handheld is scheduled to launch during holiday 2018. Check below for more info on the Atari Retro Handheld:
A stunning reimagined Atari 'Retro' Handheld with 50 built-in games and TV output!

Featuring a spectacular collection of classic titles including Asteroids, Adventure, Breakout, Centipede, Missile Command, Millipede, Pong, Sword Quest and many more!

Reimagined design with immortalised "wood" effect

50 built-in games

2.4" screen

A/V Output

Responsive Buttons

AAA batteries required (not included)

Full list of included games below:

3D Tic-Tac-Toe (31 in 1)

Adventure

Air-Sea Battle

Asteroids

Black Jack

Bowling

Breakout

Canyon Bomber

Casino

Centipede

Circus Atari

Crystal Castles

Demons to Diamonds

Desert Falcon

Dodge 'em

Double Dunk

Fun With Numbers

Golf

Gravitar

Haunted House

Home Run

Human Cannonball

Maze Craze

Millipede

Miniature Golf

Missile Command

Night Driver

Off the Wall

Pong - Video Olympics

Quadrun

Radar Lock

Realsports Football

Realsports Tennis

Realsports Volleyball

Sprintmaster

Steeplechase

Stellar Track

Street Racer

Submarine Commander

Super Baseball

Super Breakout

Super Football

Swordquest: Earthworld

Swordquest: Fireworld

Swordquest: Waterworld

Tempest

Video Checkers

Video Chess

Video Pinball

Yar's Revenge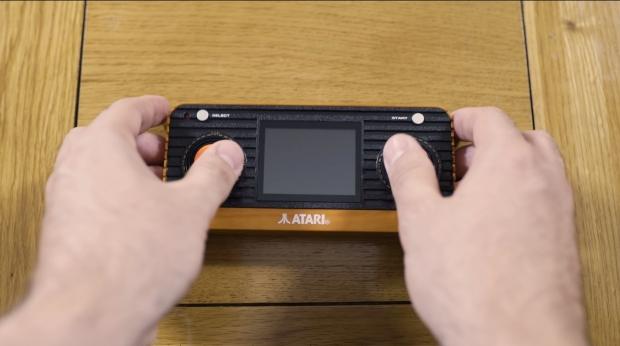 Related Tags