World of Warcraft's new patch adds 25% FPS boost in DX12
CPU multi-threading improvements add up to 25% more FPS in the new World of Warcraft: Battle for Azeroth update.

Published Wed, Oct 10 2018 8:34 PM CDT
|
Updated Tue, Nov 3 2020 11:50 AM CST
Blizzard is preparing a new update for World of Warcraft that will be included with Battle for Azeroth patch 8.1, something that will provide new DX12 multithreading options that will improve FPS by up to 25%, and that's a big deal.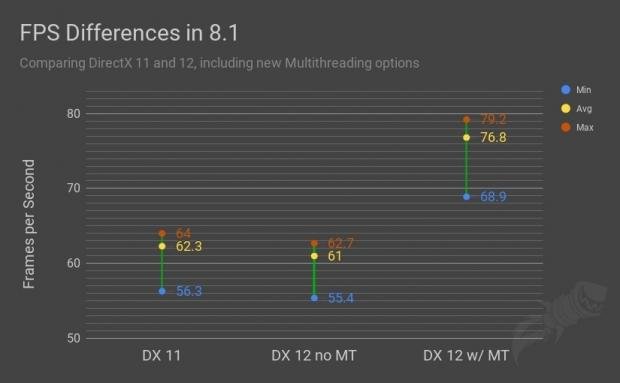 DX12 support was introduced into World of Warcraft with the Battle for Azeroth 8.0 pre-patch, but high-end PCs aren't seeing any performance improvements, and sometimes it even reduces performance. But the new 8.1 patch will fix that as it has been tuned for multithreading that will see the optimal CPU usage across as many cores as it can.
Wowhead has benchmarked the new 8.1 Tides of Vengeance patch on the PTR after Deadly Boss Mods creator MysticalOS discovered the DX12 multithreading options. Wowhead explains: "As we can see in the benchmark results, currently in Patch 8.0, DirectX 12 doesn't give high-end computers any kind of improvement, and even reduces frames sometimes. With the new multithreading options enabled, however, this changes. Compared to the normal DirectX 12 results, the multithread settings provide an average 25% improvement to frames per second and 23% improvement over DirectX 11 results. These results are an amazing increase and should help players with 120Hz or 144Hz refresh frequency monitors reach much higher frame rates".
This is early days yet but the performance improvement here from an average of 62FPS in DX11 down to 61FPS in DX12 with no multithreading support enabled, right up to 76.8FPS average is incredible. This is a huge deal for lower-end graphics cards like the GTX 1050/1060 or the RX 550/560 that are paired with a 4/6/8-core CPU that has nothing else better to do in a game like WoW.
Related Tags