Devil May Cry 5 has optional microtransactions
Wallets may cry, too.

Published Sat, Sep 22 2018 1:22 PM CDT
|
Updated Tue, Nov 3 2020 11:50 AM CST
Devil May Cry 5 will allow players to spend real money on Red Orbs, which can be used to upgrade skills and unlock new moves.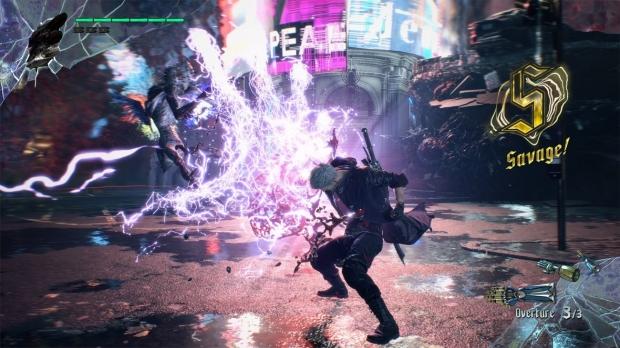 While Capcom primarily makes its money from full game sales, the company has enjoyed strong success with live games like Monster Hunter: World--on the heels of the MMO, Capcom's Q1 earnings skyrocketed by 647%. Any games-maker needs to diversify its income to ensure long-term revenue, and this typically means a blend of game sales as well as recurring digital sources like DLC and microtransactions. As it did with Devil May Cry 4's Special Edition, Capcom will use this joint strategy with its big new Devil May Cry 5 sequel out next March.
Devil May Cry 5 offers players a time-saving shortcut, putting a premium on convenience similar to those found in Assassin's Creed: Origins (and likely Odyssey, too). You can spend a bit of money on a Red Orb booster to grab a skill or two instantly rather than spending the time to amass the orbs the old fashioned way. The game's Divinity Statues have an optional storefront that sells orbs for cash, but you'll need to be online to take advantage.
"With giving people the ability to purchase Red Orbs, it's something we want to give people as an option. If they want to save time and just want to get all the stuff at once, those people can do that. But on the other hand I don't feel you have to get all the moves. You should be able to play it the way you want to play it," DMC5 game director Hideaki Itsuno told Gamespot.
Speaking of online, Devil May Cry 5 will have multiplayer modes to keep players engaged over a longer period. This folds in with the kinds of strategies used by publishers to keep players invested and interested in a game far after launch, and we could see more modes, DLC, and time events roll out too.
Make no mistake though: Capcom will continue making new games and new IPs alongside its steady re-release and live game schedule. It's all about widening your reach, and Capcom has proven itself adept in this regard.
Devil May Cry 5 releases on March 8, 2019 on the PS4, Xbox One and PC.
Related Tags