Capcom's Q1 profits up 647%
Capcom reports massive spikes in operating income, net profits, and ordinary income.

Published Mon, Jul 30 2018 6:32 PM CDT
|
Updated Tue, Nov 3 2020 11:51 AM CST
Capcom's latest earnings show substantial growth and momentum thanks to big hits like Monster Hunter World.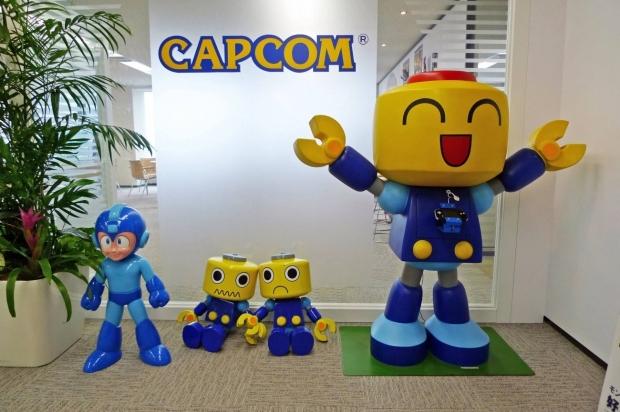 Today Japanese games-maker Capcom released its first quarter earnings for the Fiscal Year 2019 timeline, which sees a massive jump in company profits that could continue throughout the year.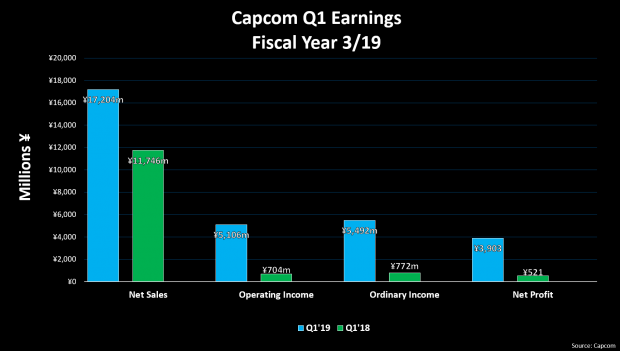 For the three-month period ended June 30, Capcom pulled in a whopping ¥ 5.106 billion yen in operating profit, representing an incredible 550% year-over-year spike, catalyzed by its digital contents business segment. Ordinary income sits at ¥ 5.492 billion yen, or a big 610% increase over last year's Q1, whereas net income attributable to owners of parent (net profit) leaps by a staggering 648% to ¥ 3.903 billion yen.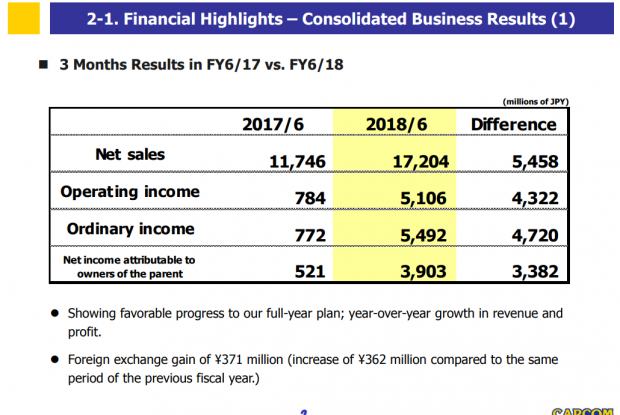 Capcom made ¥ 17.204 billion yen in net sales, up 46.5% from last year's Q1, propelled by both new and catalog game sales. Quarterly sales were driven by specific games like the big new online hit Monster Hunter World, which has now sold more than 8.3 million units worldwide, and continues to be a strong earner via engagement strategies combined with full game purchases.
Other games like Street Fighter 30th anniversary over-performed Capcom's plan and contributed to sales, alongside the Mega Man Legacy collections on the Switch which "maintained robust sales."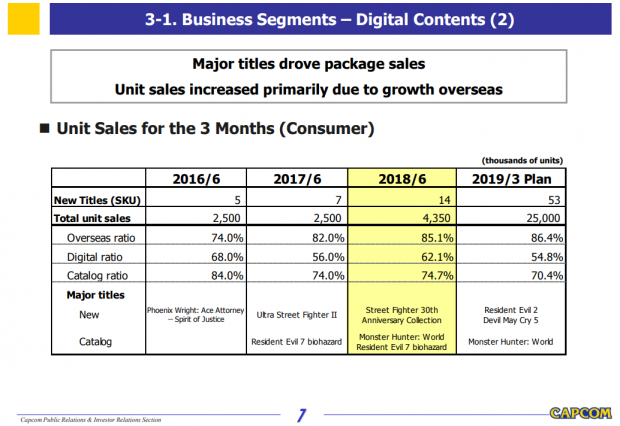 What's really interesting is Capcom's full year sales forecast. For the full fiscal year ending March 31, 2019 the company expects to sell 25 million units globally, and has already hit nearly 20% of that mark in the first quarter.
The company expects new AAA hits like Resident Evil 2 remaster and Devil May Cry 5 to spark sales (sadly there's no per-game unit sale forecasts any more) but catalog games should pull in the lion's share. Capcom expects catalog games to make up 70.4% or 17.6 million of total fiscal year sales. Remember that catalog games include titles that have already been released (like Monster Hunter World).
Based on current trends, fiscal Year 2019 should be a big year for Capcom, and we may even get another game announced from the publisher during the Tokyo Game Show in September.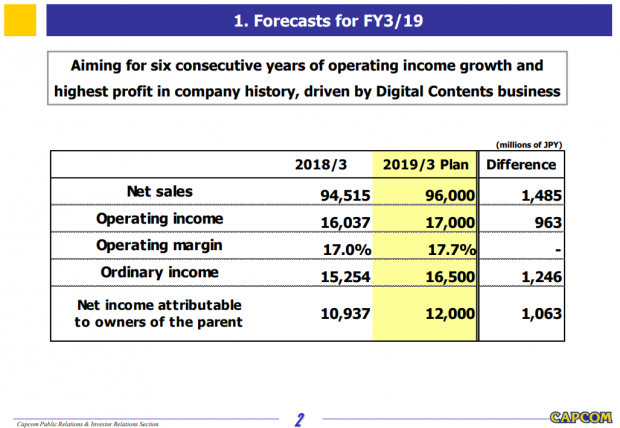 Related Tags