YouTube moves gaming front and center
YouTube moves gaming over to its main mobile app.

Published Tue, Sep 18 2018 7:29 PM CDT
|
Updated Tue, Nov 3 2020 11:50 AM CST
The YouTube Gaming app will soon be retired as the company makes key changes to its video game streams and content offering.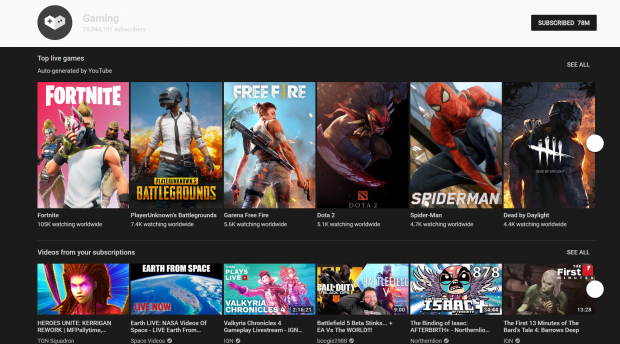 In a bid to re-capture fans and viewers, YouTube has re-vamped its gaming section on the homesite and will now show the most popular games and streams. The YouTube Gaming app will also be killed off next year, but its content will instead be folded into the main dedicated YouTube app. Essentially you won't have to download another app to watch specific videos.
"In March 2019, we'll retire the YouTube Gaming app and focus all of our gaming efforts on YouTube where we can reach our entire gaming community," reads the announcement post.
Eliminating the need for an extra, potentially redundant app should bring more viewers and visibility to YouTube content--and thus make Google more money via advertising revenue.
The new design will also help bring exposure to budding YouTubers with random community spotlights.
"We want to do more to help our smaller creators grow on YouTube too, so we'll be highlighting gaming creators who are "On The Rise" on the Gaming destination and in Trending. Each week we'll showcase a new up and coming gaming creator to help more fans discover their content. This is launching in the U.S., and we'll continue to roll this out to more countries in the future."
Related Tags