If there was a game that would be utterly mind blowing with real-time ray tracing it would have to be Cyberpunk 2077, which was recently hyped up again with its first gameplay video which you can check out below.
But according to a new leaked image of Cyberpunk 2077 and its settings window, we can see that other than the retro feel of its UI, there's optins for both NVIDIA ray tracing and HairWorks technologies. This would imply that Cyberpunk 2077 has support for RTX, and will be an even more special game for GeForce RTX 20 series graphics card owners.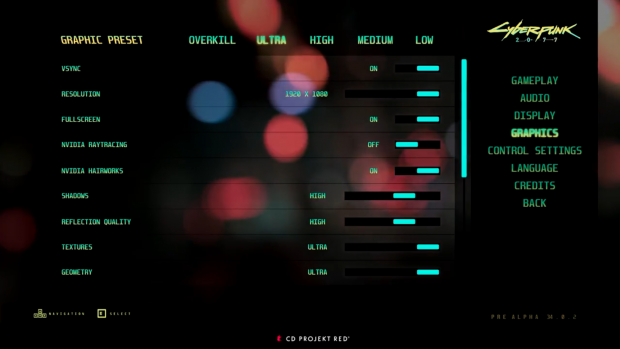 Cyberpunk 2077 developer CD Projekt RED is no stranger to working with NVIDIA technologies, with the company using NVIDIA HairWorks and HBAO+ technology in The Witcher 3: Wild Hunt. Back on August 21, someone asked via a tweet to the official Cyberpunk 2077 account on Twitter the developers thoughts on NVIDIA RTX to which the developer tweeted: "Beautiful!"
Another tweet asked about putting RTX technology into Cyberpunk 2077, to which the developer replied: "We're very excited about the announcements from our friends @nvidia but don't have any details to share at the moment".
If NVIDIA can secure RTX technology in Cyberpunk 2077 it would have one of the biggest games of 2019 (or whenever it arrives) as a showcase for its next-gen GeForce RTX 20 series graphics cards. A real-time ray traced world of Cyberpunk 2077 would be damn beautiful, and would see The Witcher developer taking to new heights.
Consoles... sorry, you'll have to let this one go. Real-time ray tracing is a PC exclusive feature, and for once we are going to see a slew of games that are vastly technically superior. Cyberpunk 2077 with RTX technology could take things to the next level in a lot of ways.