NVIDIA truly dominates the AI supercomputer race with its Tensor Core GPUs, and now the company has announced today that the world's top AI supercomputers are ALL powered by NVIDIA Tensor Core GPUs.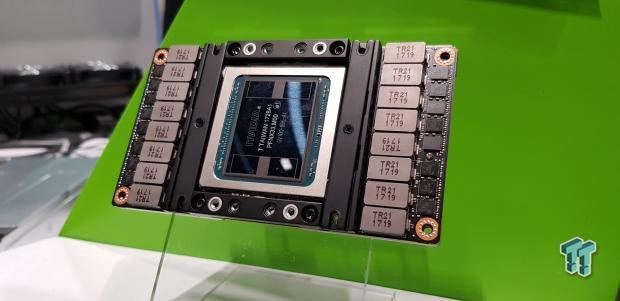 The new list of the world's 500 fastest systems sees NVIDIA taking the top spots with Tensor Core GPUs, with the two latest AI supercomputers securing the #1 and #3 spots of the world's fastest supercomputers with Summit, and Sierra, respectively. The fastest supercomputer in Japan, ABCI, is also powered by NVIDIA Tensor Core GPUs.
GPUs now power 5 out of 7 of the world's fastest systems, and better yet NVIDIA Tensor Core GPUs power 17 of the 20 most energy efficient systems on the GREEN500 list. Most of the GREEN500 systems are NVIDIA GPUs, just the nail the point home that NVIDIA dominates the supercomputer market.
The #1 fastest supercomputer is the Oak Ridge National Laboratory's Summit, which was powered on for the first time earlier this month. It packs a huge 27,648 Tensor Core GPUs, the most GPUs in any supercomputer on the planet. It overtook China's Sunway TaihuLight which pumped away at 93 petaflops, driving right up to 122 petaflops of double-precision performance. The company also powers the world's fastest industrial supercomputer in Italy, the Eni HPC4 which is used in global oil and gas industries.
NVIDIA powers not just the #1 fastest supercomputer in the world, but its GPUs power the #3, #5, #6, and #7 fastest supercomputers in the world. This list includes:
No. 3: Sierra, based at the Lawrence Livermore National Laboratory, delivers 71 petaflops of performance using 17,280 GPUs.

No. 5: ABCI, Japan's fastest system, delivers 19.6 petaflops of performance using 4,352 GPUs.

No. 6: Piz Daint, Europe's fastest system, delivers 19.5 petaflops of performance using 5,320 GPUs.

No. 7: Titan, operated by the U.S. Energy Department, delivers 17.6 petaflops of performance using 18,688 GPUs.