Computex 2018 - ASUS held their Computex 2018 press conference with a huge unveiling of their new ROG Phone, the first smartphone ASUS has made for gaming... and it's all thanks to Fortnite and PUBG.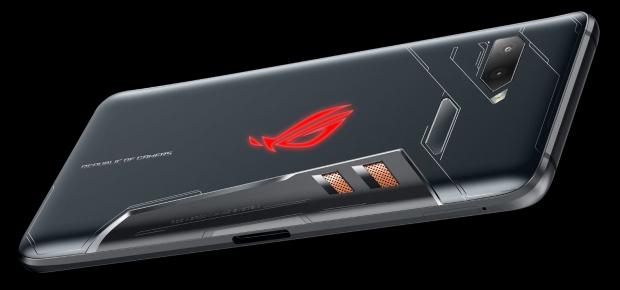 ASUS has crammed in just about everything you can think of into the ROG Phone, going even as far as offering external cooling with a clip-on fan that connects ot the back of the phone for those long hours of gaming on-the-go, as well as an optional handheld dock that is very Nintendo Switch like.
Inside, we have Qualcomm's latest and greatest Snadragon 845 which is an 8-core CPU that has its clock speed boosted from its usual 2.8GHz up to 2.96GHz. The display itself is a 6-inch 2160 x 1080 AMOLED display with a faster 90Hz refresh rate, not quite 120Hz like Razer, but Razer uses a lesser quality LCD versus the AMOLED on the ASUS ROG Phone.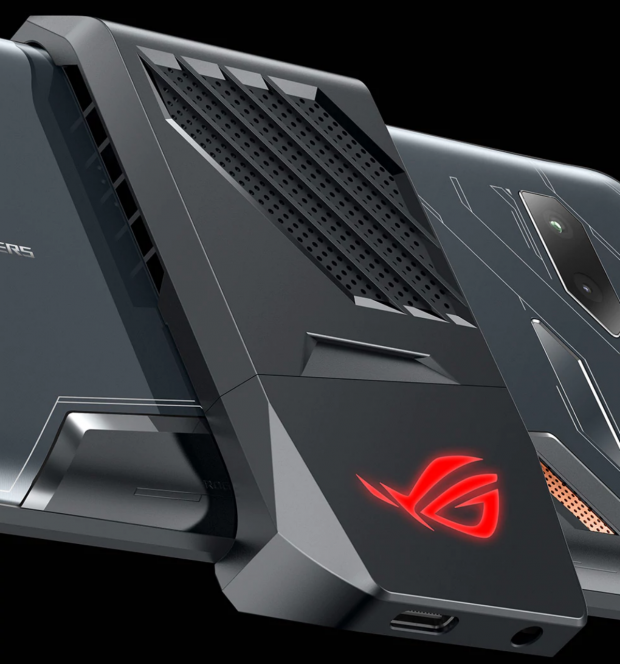 There's a huge 8GB of RAM inside of the ASUS ROG Phone, and camera wise we have an 8-megapixel up front and 12/8-megapixel ultra-wide on the back, with a rear fingerprint sensor joining the fray.
Do we have RGBs? Of course we have RGBs. ASUS has an awesome silver ROG logo on the back of the phone that has a programmable RGB backlight that can be tweaked with an app. You have the option of a static color, pulsating, strong, or cycling through various colors... or it can be turned off completely.
For the dedicated ROG fans out there, you can sync your ROG Phone with other ASUS Aura Sync products, right up to 5 of the ROG Phones at once.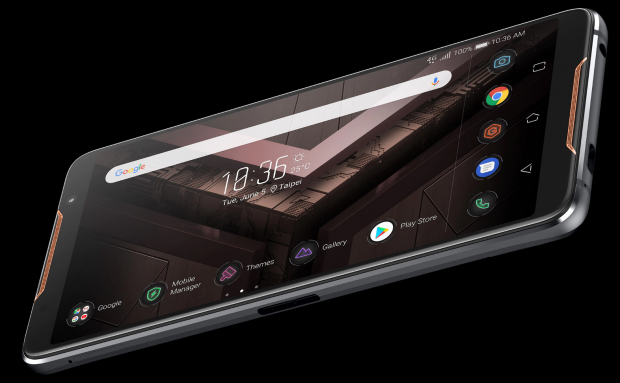 The most unique thing on the ASUS ROG Phone is that its USB-C charging port isn't at the bottom of the phone but on the side, so you can continue gaming into the night without the cable getting in the way of your hands.
There's also a 4000mAh battery that is backed by ASUS HyperCharge, something that is very cool as it saw ASUS moving the charging chip to the power adapter so that the heat generated by the charging of the ROG Phone is reduced.
ASUS has also used a "3D vapor-chamber cooling system" that is a large copper heat radiator with some carbon cooling pads that are attached to the circuit board. ASUS says that this cooling technology is 16x better at heat dissipation over standard smartphone cooling... which helps during those all-night PUBG and Fortnite sessions.
ASUS will have the ROG Phone on the market in Q3, and judging by what the company has unveiled here it is the best gaming smartphone on the market by a long shot... beating out even the Razer Phone, which doesn't hold a candle next to the ROG Phone.