Black Ops 4 won't have campaign, battle royale confirmed
'We're weaving a narrative in each of the game modes.'

Published Thu, May 17 2018 2:22 PM CDT
|
Updated Tue, Nov 3 2020 11:51 AM CST
This year's Call of Duty game will exclusively be a live service game without any sort of campaign mode, but it'll have a huge array of multiplayer content.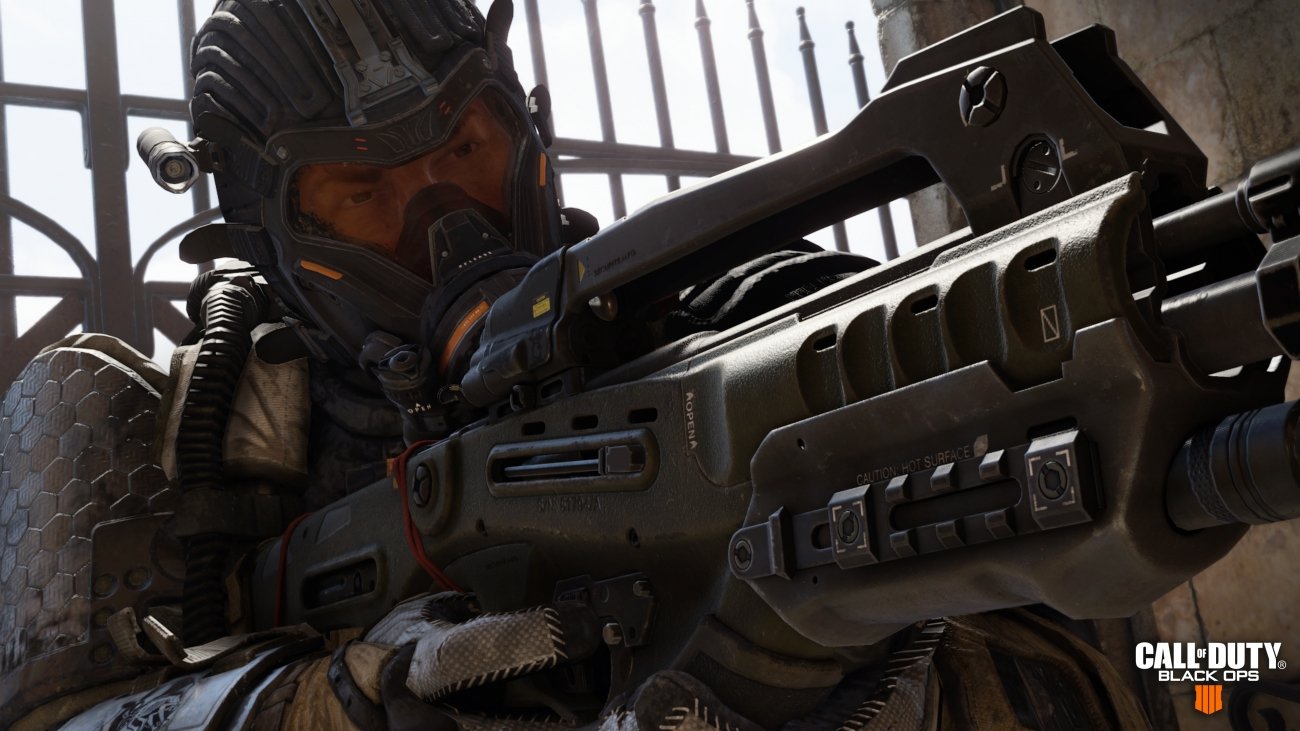 Although Black Ops 4 technically won't have a singleplayer campaign mode, Treyarch still asserts the game will tell a story. These stories will be told through multiple game modes such as Blops 4's zombies gametype, which sees campaign and co-op merged together as a "narrative-driven" experience. And zombies actually has interdimensional travel for some reason--the "IX" gametype even has you playing as gladiators against the undead in an ancient Roman colosseum (now I'm not joking). "Black Ops 4 marks the beginning of a brand new storyline. Separate and distinct, a new world with new characters and enemies. Drawing from history both real and mythical," the dev said on stage during the game's reveal.
The real crux of Black Ops 4 is Activision's most lucrative billion-dollar strategy: engagement. The game has been built from the ground up to keep players gaming online with their friends for months and months thanks to its smattering of modes, which of course taps the industry's massively popular battle royale. In very many ways Black Ops 4 looks like a mish-mash circus of online gametypes and experimental live-driven content and less like the more rigid and serious experiences the series can deliver.
Multiplayer
There's no thrust-jumping in multiplayer, nor is there wall-running, and is 100% boots on the ground. Guns will be up as you run and throw grenades to keep things fluid. Specialists are back. There will be both new and old specialists for tactical advantages.
Black Ops 4's guns have also been refined more than ever--Treyarch says the weapons have been tweaked more than all previous Black Ops games combined. Each weapon will also have its own set of attachments for customized mayhem.
Operator mods for the guns have also been introduced to affect in-game performance, including making bullets heavier so they "distort and disorient" enemies.
Both of these things are prime opportunities for monetization and I expect to see Activision take advantage.
Next up Treyarch reveals guns in Black Ops 4 have predictive recoil patterns, meaning every gun's recoil is learnable. The more you use a particular weapon the more you'll be able to adapt to its recoil and become a better shot.
"This is by far the biggest investment in weapon systems and combat platform that we've made to give you the most rewarding and visceral experience by pushing the state of art on weapons visuals, animations and sound effects."
Zombies
The zombies mode is pretty huge with various sub-modes and chapters. Blops 4's zombies can be played offline with bots or online with three friends, and even has a Zombie Rush gametype that eases players into the mode. Episodic story chapters like "Voyage of Despair" transport you on a particular luxurious 1911 cruise ship that's been overrun by zombies, for example.
Zombies tells the story of four heroes as they go on a wild ride across multiple timelines and destroy undead baddies in a gory show of mayhem. Black Ops 4's zombies will have custom, player-made content to fuel the community as well as engagement. How this will be monetized has yet to be revealed but expect skins/lootboxes/unlockables and DLC to be purchasable.
"We're going to provide you with customizable tools and social systems to evolve zombies into a mode for daily, weekly, monthly and yearly engagement."
Black Ops 4 will launch with three zombie maps on day one:
IX

Voyage of Despair

Blood of the Dead
Battle royale - Blackout
Blackout is battle royale "done the Black Ops way" and will feature a massive open-ended level for last-man-standing chaos. Blackout includes land, sea and air vehicles and the devs promise it'll deliver fast-paced action.
What's most interesting about Blackout is that it's basically a big conglomeration of Black Ops' entire history, including characters, weapons, and some of the most memorable maps and sequences in the series. So we'll see lots of tidbits and callbacks from previous games, essentially melding it further with both campaign and multiplayer content gamers know and love.
Treyarch describes it as a "crazy collision of fun" and asserts that this is "something you've not experienced before."
Black Ops 4 will launch on October 12, 2018 for PS4, Xbox One and PC.

Related Tags