The hottest gaming monitor on the market is still in the making, but with each passing month we're getting closer to its release and now we're seeing a new listing for the ASUS ROG Swift PG27UQ.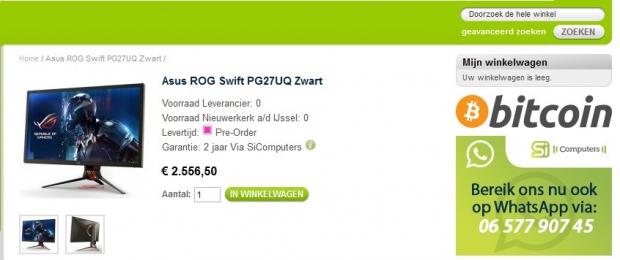 ASUS might not show much off in its product name, but the ROG Swift PG27UQ is a 27-inch 4K 144Hz monitor with NVIDIA's G-Sync technology. The monitor is listed on sicomputers.nl for a huge $3000, but this will give you HDR10, 1000 nits of brightness, direct LED backlighting, and 384 zones with quantum dot film. We are all here for 3840 x 2160 at 144Hz, though... right?!
We should expect NVIDIA to fully unveil and have them showcased during Computex 2018 which is only a few weeks away, and I'm sure ASUS and Acer will be showing them off in force during the show.