Analysts: spending on Nintendo products to beat Xbox in 2018
Nintendo is expected to outpace Xbox in terms of spending in 2018.

Published Mon, Mar 12 2018 5:21 PM CDT
|
Updated Tue, Nov 3 2020 11:52 AM CST
Based on explosive sales of the Nintendo Switch and strong software attach rates, analyst firm IHS Markit predicts Nintendo will actually outpace Microsoft's Xbox division in terms of product sales and services.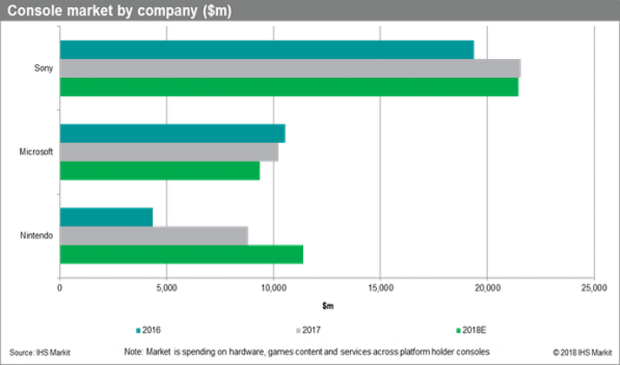 With the Switch, Nintendo is back in the game, so to speak: the console has propelled the games-maker to its former glory with monumental sales and global acclaim. Before the Switch the console gaming space was dominated by the PS4 vs Xbox One battle--a battle which Microsoft was losing--but now Nintendo will push Xbox to the third spot...at least that's what IHS Markit predicts.
According to recent data released by the firm, Nintendo is expected to rake in about $11 billion in hardware, games, and services revenue in 2018, whereas Microsoft is predicted to pull in around $8 billion or so in combined gaming earnings.
The firm's graphs show just how much of a transformation Nintendo has made since its dismal 2016 days.
Thanks to the PlayStation 4's huge install base, Sony is projected to firmly keep the top spot with over $20 billion in gaming revenue for 2018. Total console market spending for 2018 should reach $42 billion, the firm said.
Related Tags