Intel intends to 'compete in graphics products' in future
Intel teases proof of concept GPU design for future discrete GPU.

Published Tue, Feb 20 2018 7:23 PM CST
|
Updated Tue, Nov 3 2020 11:52 AM CST
Update: Intel has reached out to me with the following statement: "Last week at ISSCC, Intel Labs presented a research paper exploring new circuit techniques optimized for power management. The team used an existing Intel integrated GPU architecture (Gen 9 GPU) as a proof of concept for these circuit techniques. This is a test vehicle only, not a future product. While we intend to compete in graphics products in the future, this research paper is unrelated. Our goal with this research is to explore possible, future circuit techniques that may improve the power and performance of Intel products".
An interesting statement that shows the purported discrete GPU everyone is talking about isn't something new, as it's a prototype that Intel is working on - an existing product and "not a future product". Intel clarifies that it intends to "compete in graphics products in the future", though, which is so great to see.
All of that kerfuffle last year when AMD lost Radeon Technologies Group boss Raja Koduri wasn't for nothing, as he has jumped into Intel and now we're seeing the first tease of their new discrete GPU.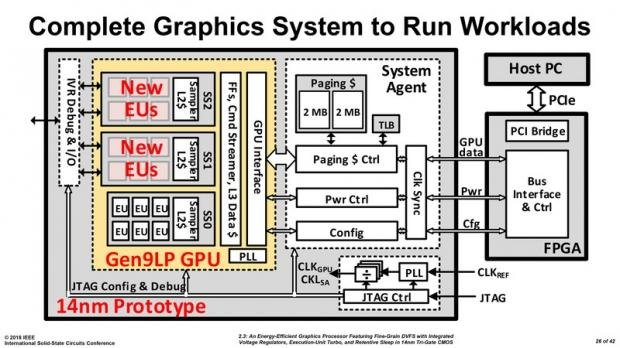 Intel showed off some diagrams of its discrete GPU solution at ISSCC (IEEE International Solid-State Circuits Conference) in San Francisco, California. Intel's secret discrete GPU solution is the first discrete GPU the company has worked on since the days of the i740 (so many memories of that card and how when tuned, it could've changed everything at the time).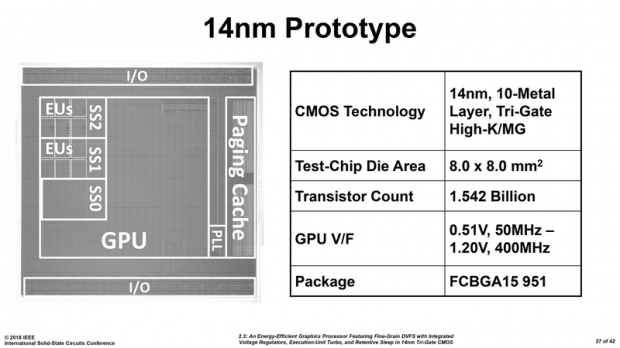 Intel's discrete GPU is build on the 14nm process, packing 1.5 billion transistors - comparing it to the 12.5 billion on AMD's Radeon RX Vega 64 and the 12 billion on NVIDIA's GeForce GTX 1080 Ti.
This isn't something that will compete with the Radeon or GeForce line of graphics cards, but a super-powered Intel NUC makes sense. The design should also scale right up to 10 billion or more transistors, so that it could potentially fight against AMD and NVIDIA in the big boy GPU leagues.
With Raja Koduri unrestrained from his shackles at AMD, I'm excited to see what he can do with Intel's budget.
Fun fact: I purchased an Intel i740 back in the day to play Trespasser, if you remember that comment below!
Related Tags