I don't even know where to start, but there's a Sims 4 modder Filip, that is making digital drugs for the game through a mod called "Basemental".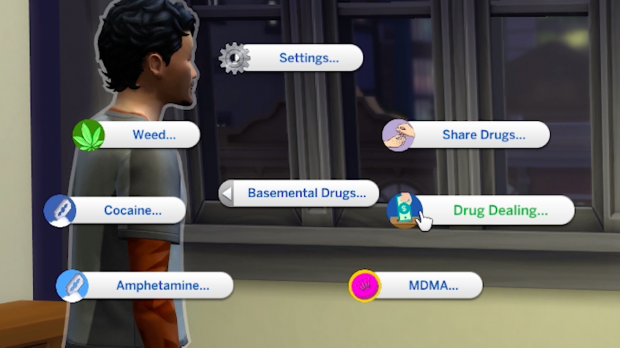 Basemental provides drugs to the game, including marijuana, cocaine, amphetamines, and MDMA (aka Molly, X, Ecstasy), which then the sims can buy, use, consume, and even sell. There's a new "drug dealer" trait that you can choose, where you can become a digital drug dealer.
The mod isn't some glossed-over afterthought, because the digital drugs don't just make you act high, hungover, or go to sleep... but they'll see your sim become addicted, overdose (both fatally, and not-fatally), and even get arrested for drug possession.
But where does Filip make his money? Other modders loved his idea, and suggested that he open up a Patreon account so that people could donate to him. Filip started the Patreon account not expecting much, and is now making a cool $6000 per month making and selling digital drugs for the Sims 4.
Filip told Kotaku that he does not condone drug use, and that his Sims 4 mod wasn't created just so he could let Sims get high. It's actually quite an emotional ride, considering there are bad sides to taking drugs in the game. You will see your sims suffer withdrawals, get arrested, and even die from a drug overdose.
The Sims 4 modder also recommends blending his drug-infused mod with Turbodriver's sex mod, Wicked Whims. With the Wicked Whims and Basemental mods working in tandem in Sims 4, you can trade sex for drugs and even have your sims go through miscarriages because of drug abuse while pregnant.
This makes the Sims 4 truly crazy, and almost GTA-like with its modding world. I had no idea that this level of mods were available to an otherwise innocent game. You can download the Basemental mod here.