Diablo creator reveals new roguelike It Lurks Below
The grandfather of Diablo ARPGs David Brevik shows off his new side-scrolling roguelike.

Published Wed, Jan 31 2018 6:20 PM CST
|
Updated Tue, Nov 3 2020 11:52 AM CST
It Lurks Below is David Brevik's new game, and it's very Terraria-esque.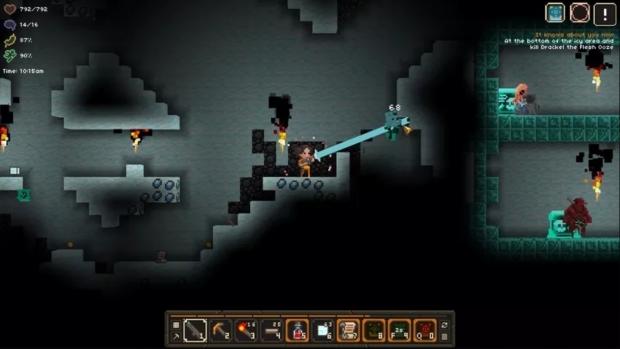 As a hardcore Diablo nerd who absolutely adores Diablo II (especially the Lord of Destruction expansion) and dies a little inside when thinking about how badly Blizzard botched Diablo III's launch, I'm always fascinated any time I hear about David Brevik, who helped the series come to light. While the veteran game dev isn't working on Diablo IV (or whatever Blizzard will call it), he's chipping away at a neat little indie game called It Lurks Below.
The game itself is a roguelike dungeon crawler that looks a whole lot like Terraria, and even shares a functional in-game world that can be destroyed or customized by players. Apparently Brevik is a huge fan of these types of games: "I wanted more of a point to a lot of those games," Brevik said in a recent interview with Polygon. "I wanted to make an RPG, with classes and leveling up, random items, where you get more and more powerful as you go down into the core of the world and fight baddies."
It Lurks Below should be out sometime this year, and has been in development for some time. Brevik plans to stick to community-driven feedback to help power and shape the game over time.
"I am going to be adding stuff to [It Lurks Below], listening to the community, getting feedback and making sure the game is the best it can be. That is something I definitely worked hard on with Marvel Heroes, getting that feedback from the community."
Related Tags