YouTube gaming video revenues drop by 50% year-over-year
The big advertiser pull-out in 2017 saw YouTube's gaming video content earnings drop by half.
Published
1 minute & 19 seconds read time
The Gaming Video Content segment of the games industry, which includes streams, let's plays, and other gaming content published on platforms like YouTube and Twitch, is a maturing sector that earns billions every year. But YouTube had a big problem in 2017...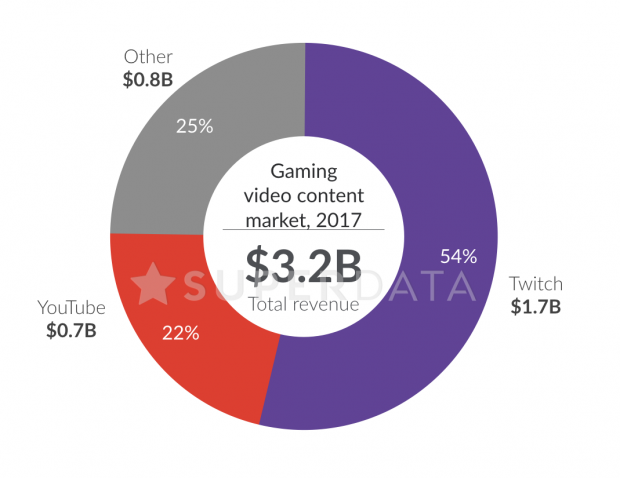 Last year saw we saw big advertisers like Pepsi, Coca-Cola, Procter and Gamble, and AT&T yank advertisements from YouTube following a big content controversy: ads were playing over videos deemed racist and massively inappropriate. It didn't help that major YouTube stars like Pewdiepie were also part of the controversy. Predictably enough this exodus took a toll on YouTube's advertising revenue, which it relies on to keep the platform afloat and support content creators. SuperData notes that YouTube earned 69% of its GVC revenues from advertisements in 2017. But how badly was its Gaming Video Content hit by the move? Pretty bad.
According to analyst firm SuperData, YouTube's GVC revenue dropped by a massive 50% year-over-year in 2017, effectively meaning it earned Google half of 2016's pre-controversy revenues.
"YouTube's GVC revenue plummeted by 50% year-over-year after struggling with problematic content and monetization. Controversies surrounding uncensored, offensive content scared off advertisers. YouTube responded by implementing an algorithm that incorrectly demonetized unoffending videos. This in turn led to heavy backlash from its user base."
"Due to its poor handling of public relations, YouTube became a much less attractive destination for advertisers and and GVC content creators.on for advertisers and and GVC content creators," reads a press release from SuperData's latest 2017 Year In Review report.
The report also notes another interesting tidbit: Twitch is above YouTube in terms of engagement. Although YouTube's gaming audience is about double Twitch's, users who watch the latter are much more likely to monetarily support their favorite broadcasters and streamers via tips and subscriptions. In fact tips and subs made up more than 50% of the GVC revenue earnings on Twitch, whereas YouTube only earned about 20%.
Related Tags