League of Legends streamer crackers 370,000 concurrent views
League of Legends streamer Tyler1 has returned after being banned and has broke Twitch's concurrent streamer record.

Published Tue, Jan 9 2018 3:38 AM CST
|
Updated Tue, Nov 3 2020 11:53 AM CST
Back in 2016, a League of Legends streamer going by the name of Tyler1 was banned by Riot as he was deemed detrimental to the communities health, Riot labeled the streamer as "a genuine jerk" but now his account has been returned to him.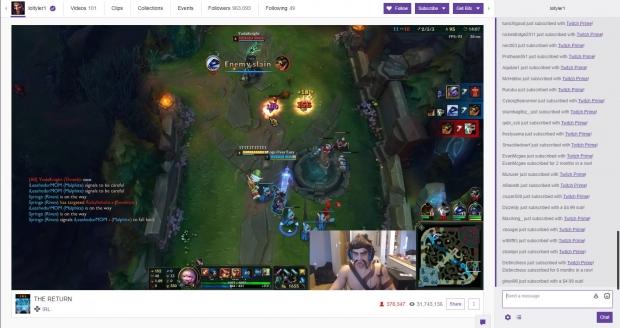 Tyler1 has described himself as rehabilitated and that must of been enough for Riot, an account review has passed the standards of Riot, which then lifted the ban. As the old streamer was originally not allowed to stream League of Legends at all that ban has also been lifted which has created a massive influx of viewers curious to Tyler1's return.
The stream titled "THE RETURN" has been so popular that it has broken Twitches record for a single streamer being watched at once with 378,000 viewers, Faker originally held the record with 245,000 concurrent viewers on his first ever live stream back in February last year.
Known for his toxicity and being a ball of rage, the League of Legends streamer has been seeing his subscriber count sky-rocket as each subscription at the time of writing this article, is happening around every 10 seconds or so which puts around $2.50 straight into Tyler1's pocket with each new subscriber.
For those interested in seeing the streamers return they can check out his channel here.
Related Tags