Steam hits milestone, 18 million concurrent player-count
Steam has reached an all time high concurrent player-count, passing just over 18 million current gamers.

Published Mon, Jan 8 2018 9:50 AM CST
|
Updated Tue, Nov 3 2020 11:53 AM CST
Steam has reached a new milestone for overall player count with just over 18 million gamers being recorded to be using the platform, surpassing the last milestone of 17 million in just over a month.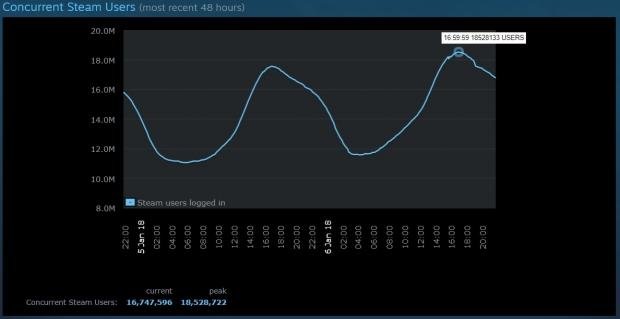 The last milestone that Steam hit was back in November 2016 when the service reached over 17 million users at once, in just over a month that milestone has been broken and a new one has been set. The specific number found on the Steam stats website is a huge peak of 18,528,722 concurrent users, the game taking the largest chunk of those players was none other than Battlegrounds, coming in with just over 3 million chicken dinner hungry gamers.
According to the graphs, the game taking second place on the leader-board is Dota 2, pulling in 780,061 players. Following up second place is Counter-Strike: Global Offensive with 637,510 players, then a massive drop in player count occurs as Grand Theft Auto V comes in with fourth place with a peak of 168,575 players.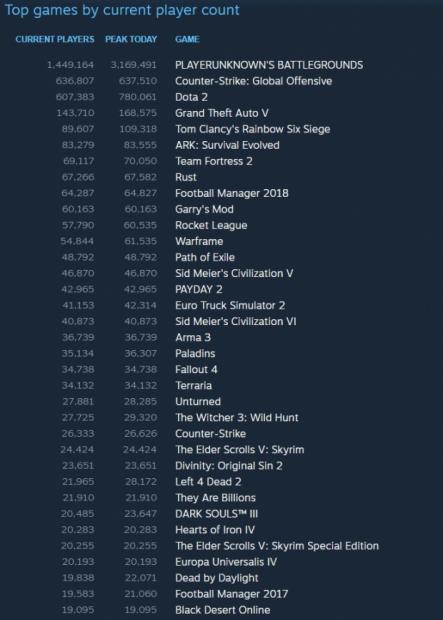 From these numbers we can see that the top four games take quite a large portion of Steams overall player base. What we can also see from the above chart is Steams top 10 games are all above 60,000 concurrent gamers, meaning that communities are still healthy even for older games such as Team Fortress 2 or Gary's Mod.
Related Tags