Magic Leap's mysterious AR headset gets revealed
Magic Leap's new Lightwear AR headset gets revealed ahead of its 2018 release date.

Published Wed, Dec 20 2017 4:31 PM CST
|
Updated Tue, Nov 3 2020 11:53 AM CST
After months of teasing, Magic Leap finally reveals its mysterious new AR headset: the Lightwear.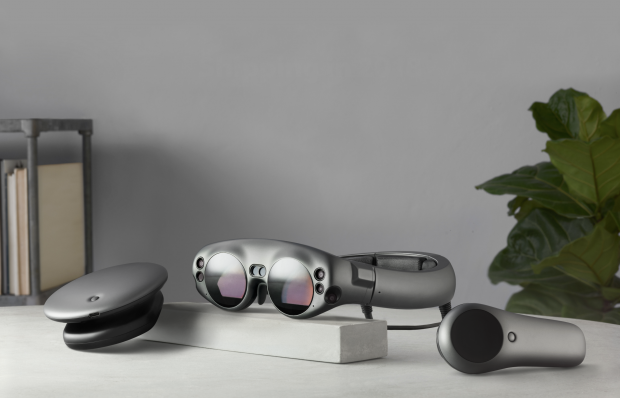 The Lightwear headset isn't exactly wireless: it works in conjunction with a wired lightbox that projects a photonic field that appears over the wearer's field of vision, allowing for a number of different unique activities including gaming, shopping, entertainment, and possibly even digital work. Like the Hololens and much of AR and VR tech, the ball is really in developers' collective courts, and how well the tech is utilized depends on the software and innovation specific content-makers are able to glean.
Magic Leap's AR headset is more like a pair of goggles that actually houses a powerful miniature PC that's akin to a MacBook Pro or an Alienware PC, complete with a GPU and CPU combo. The (likely expensive) tech also uses spatial awareness for audio and visuals, meaning you can walk and the projections will follow your steps. Wearers can project screens onto walls as well as objects and animated characters right before their eyes, turning the surfaces of the real-world into a virtual playground of sorts.
"This is a self-contained computer," MagicLeap founder Rony Abovitz told Rolling Stone. "Think about something close to like a MacBook Pro or an Alienware PC. It's got a powerful CPU and GPU. It's got a drive, Wi-Fi, all kinds of electronics, so it's like a computer folded up onto itself."
"This isn't a pair of glasses with a camera on it. It's what we think of as spatial computing. It has full awareness."
The Lightwear features four built-in microphones as well as speakers and six external cameras for tracking (possibly more). The creator's edition of the headset is slated to ship starting in 2018 in two sizes, and Abovitz affirmed the device would only get better with time as more innovation and technology belt out into the world.
Related Tags