Hacked: Intel Coffee Lake 8350K running on Z170 motherboard
MSI Z170A XPower Titanium BIOS hacked to run Intel Core i3-8350K Coffee Lake CPU.
Published Mon, Dec 4 2017 3:58 PM CST
|
Updated Tue, Nov 3 2020 11:53 AM CST
A user recently posted on Baidu that they were able to hack their MSI Z170A XPower Titanium BIOS, allowing it to support the Intel Core i3-8350K Coffee Lake CPU. Although Intel's 6th, 7th, and 8th Generation CPUs all use the same LGA1151 socket, motherboard vendors and Intel only allow 6th and 7th Generation processors to run on the Z170 and Z270 chipsets.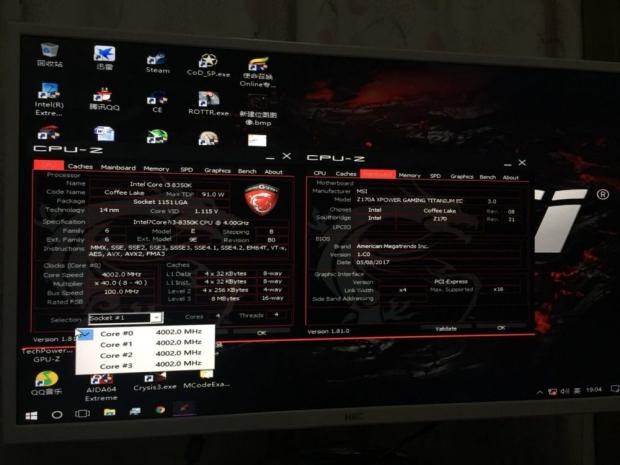 The 8th Generation processors, which offer more cores per dollar, can only run on the new and more expensive Z370 motherboards. When news of the incompatibility between 8th Generation Core processors and Z170 and Z270 motherboards broke, people were upset about the reasons given for locking the new CPUs out of the more affordable motherboards.
Power delivery concerns were the main reason we were given as to why Intel would not support 8th Generation CPUs on previous Z170 and Z270 chipsets. It seems that nature, or rather one very smart thinking hacker, found a way to make it work. They were able to trick the motherboard into accepting the unsupported CPU. The voltage regulator module on the Z170A XPower Titanium is a very robust one, and should not pose a problem with the newer CPUs.
The modded BIOS isn't perfect yet since it's not from Intel or MSI, it seems that there are iGPU and PCI-E problems.
Related Tags