Intel + AMD Radeon Vega MCM: half the TFLOPs of Xbox One X
Intel's upcoming Kaby Lake G with infused AMD Radeon Vega GPU and 4GB HBM2 has half the TFLOPs perf of Xbox One X.

Published Mon, Nov 6 2017 11:44 PM CST
|
Updated Tue, Nov 3 2020 11:53 AM CST
Intel has officially unveiled its new Kaby Lake G processor family, infused with AMD's next-gen Radeon Vega GPU with 4GB of HBM2 on-board. This new Intel/AMD processor has now had some benchmark numbers leak, and I don't really know what to expect from here on out.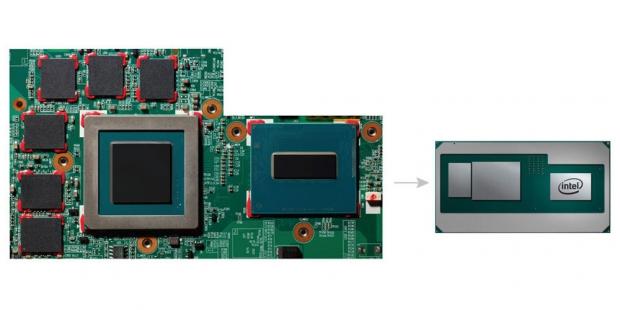 We now know that there are prototypes in the wild, which should arrive as the Core i7-8809G and the Core i7-8705G. The flagship Core i7-8809G has a board name of 694E:C0, while the Core i7-8705G is the 694C:C0.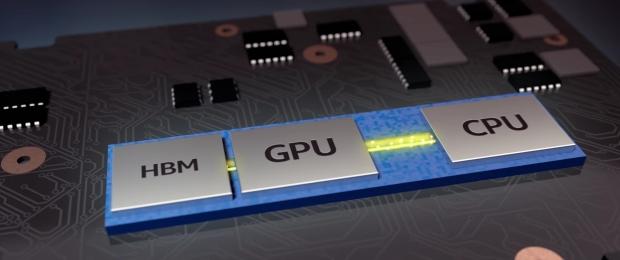 AMD's custom multi-chip modules (MCMs) will feature the Vega GPU and offering up 24 compute units, with 1536 stream processors in total. GPU clocks should be at 1000MHz for the 694E variant, while the 649C variant is 20% faster at 1190MHz. The faster version should rock 3.3 TFLOPs of compute performance, which is around half that of the APU inside of the new Xbox One X console, a semi-custom design that AMD also worked on.
Inside, the chip features 4GB of HBM2 memory, while the CPU side of things is a 4C/8T processor with Intel's current-gen Kaby Lake CPU architecture. We should see the CPU clocked at 3.1GHz base, and 4.1GHz under Turbo, while the HBM2 is clocked at 800MHz on the faster SKU, and 700MHz on the slower SKU.
Benchmark Scores
GFXBench results have shown that the flagship Core i7-8809G is close to 50% faster than the lower-end Core i7-8705G. This will be a result of the lowered GPU clock speeds, and lowered HBM2 clocks, which would reduce performance and memory bandwidth, respectively.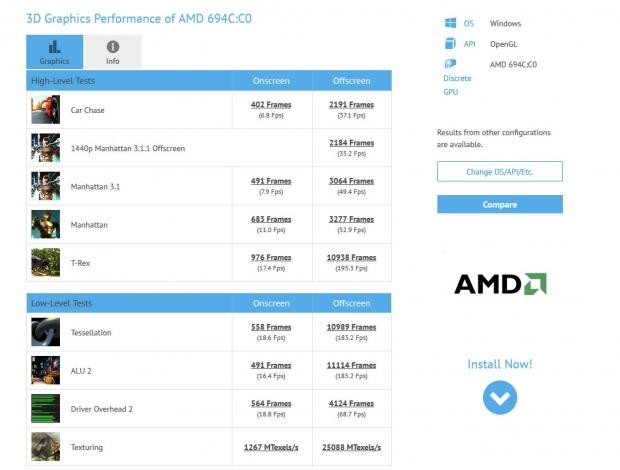 These prototypes are nowhere near final hardware so expect some larger performance numbers, with lowered power consumption as well.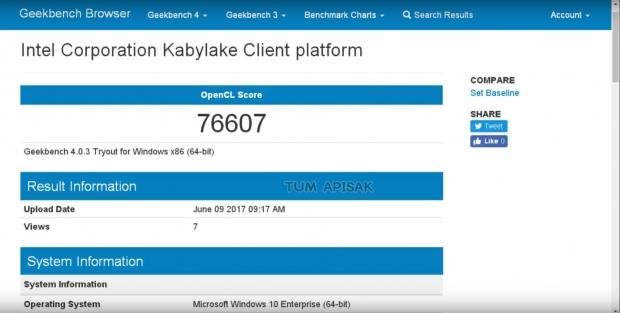 GeekBench results see the Core i7-8809G dropping its clock speeds in order to not blow out the power consumption, with max clock speeds of 1GHz on the GPU compared to 1190MHz on GFXBench.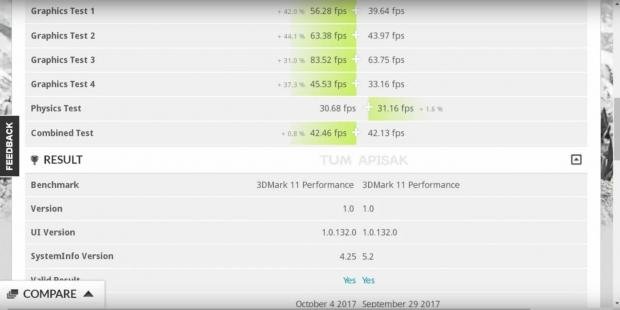 3DMark scores see the Core i7-8809G performing at around 30% faster in graphics tests than its sibling, showing the higher GPU/HBM2 clocks are going to make the flagship processor the one to buy if you want the beefiest hardware.
Related Tags