NVIDIA is in the process of launching their new GeForce GTX 1070 Ti graphics card, something that is a direct response to AMD's new Radeon RX Vega 56 graphics card, and now ASUS has unveiled their fleet of custom GTX 1070 Ti graphics cards.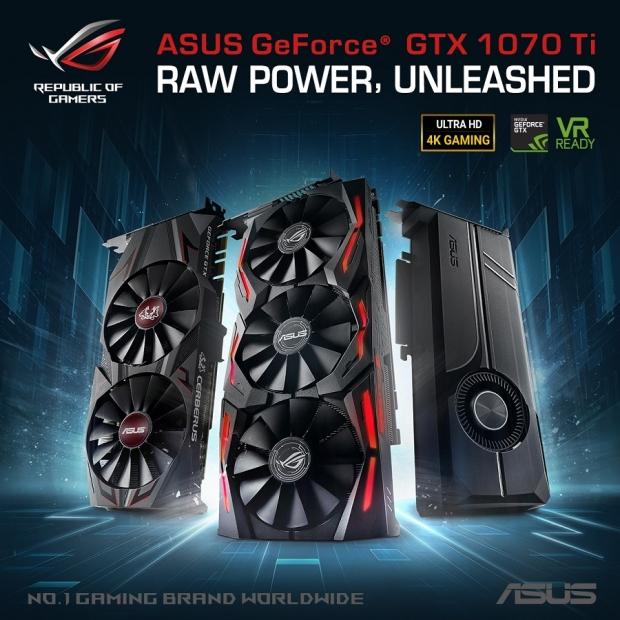 ASUS will have three different GeForce GTX 1070 Ti graphics cards on offer, with the custom ROG Strix GTX 1070 Ti 8G GAMING graphics card and its triple-fan cooler and Aura Sync RGB for personalization. ASUS uses its advanced cooling tech and the best overclocks for the ROG Strix variant, but there's also the Cerberus and Turbo variants, both with their own unique takes on the GTX 1070 Ti.
All of the graphics cards that ASUS make go through their Auto-Extreme technology, with is an industry-first 100% automated production process. ASUS uses Super Alloy Power II components for "enhance efficiency, reduce power loss, decrease component buzzing under load, and lower thermal temperatures for unsurpassed quality and reliability".
ASUS ROG Strix GTX 1070 Ti
ASUS' flagship ROG Strix GTX 1070 Ti features Aura Sync RGB lighting technology, with two different variants of the card available. The first is the Standard Edition with 1721MHz on GPU boost, while the Advanced Edition reaches 1759MHz on GPU boost.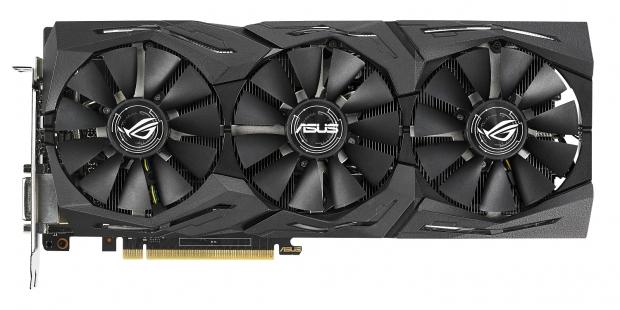 Strix GTX 1070 Ti also uses ASUS' own MaxContact, which provides improved contact with the GPU over traditional headspreaders, with the card being a 2.5-slot card with 40% more heat sink surface area than previous two-slot designs. We also have the patented 0dB wing-blade fan design spread across three fans, while the fans sit idle until the card gets hot enough to spin the fans up.
ASUS Aura Sync RGB LEDs are also heavily featured and will surely look great in a gaming PC. There's also VR-friendly HDMI ports, which lets gamers use their Oculus Rift or HTC Vive more conveniently.
ASUS Cerberus GTX 1070 Ti
The second card in ASUS' new arsenal of custom GeForce GTX 1070 Ti cards is the Cerberus GeForce GTX 1070 Ti, which is an all-new, high-performance card by ASUS. The company says that they "test each and every card to the max, starting with extensive checks for compatibility with the very latest chart-topping game titles. We also carry out reliability trials that include a 144-hour diskless-system test and 3DMark benchmarking under heavy loading for 15X longer than industry standards".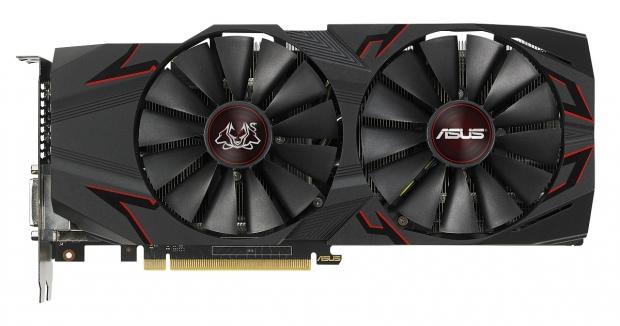 ASUS continue: "Whether playing for pleasure or creating commercial gaming environments for profit, Cerberus GeForce GTX 1070 Ti is the gaming graphics card that's ensured to endure - and with all the power needed to deliver thrilling gaming experiences". It sounds like if you're after a card that doesn't mind being stressed out 24/7, then Cerberus is for you.
ASUS Turbo GeForce GTX 1070 Ti
Lastly, we have the Turbo variant of ASUS' new GeForce GTX 1070 Ti cards, with ASUS using a single dual-ball bearing fan, and customizable backlit logo.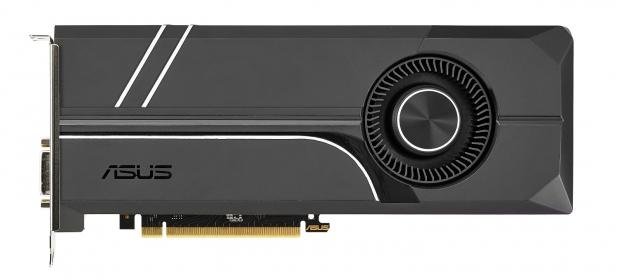 ASUS' new GeForce GTX 1070 Ti cards will be available later this week in select markets.