Xbox Games Pass to be the 'Netflix for games'
Xbox Game Pass is scratching an itch that console gamers have had for years.

Published Mon, Oct 30 2017 5:15 PM CDT
|
Updated Tue, Nov 3 2020 11:53 AM CST
Microsoft is keen on providing the Netflix service of gaming with its new Xbox Game Pass subscription service...and they're actually hitting the mark quite nicely.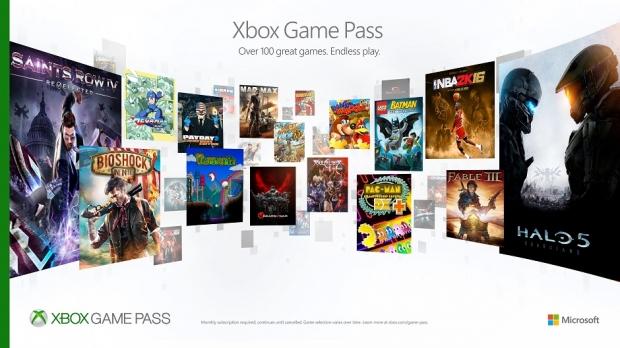 Remember Xbox Game Pass? Apparently the pay-per-month subscription service, which has a rotating selection of full downloadable games, has been doing quite well--so well that Satya Nadella is discussing plans to roll the service out across a variety of platforms. Right now Game Pass is limited to Xbox One consoles, but Xbox exec Phil Spencer said he "really wants to bring Game Pass to PC, but we just need to get it in the right place." Considering Microsoft makes a lot of revenue monetizing Xbox-as-a-service across PC, consoles and even mobiles, it'd behoove the company to find a way to bring this so-called "Netflix for games" to all gaming platforms.
Here's what Microsoft's CEO said in the most recent earnings call: "In particular, we now have a subscription offer with Game Pass that's off to a good very good start and our goal is to be able to have essentially a Netflix for games, so that we can have the game subscriptions that people can use across all of the devices that they play in."
Microsoft's Xbox-as-a-service plan has gone quite well, and the games-maker has fortified the blow against Sony's PlayStation dominance quite well thanks to this strategy. Microsoft has used Xbox LIVE and its accompanying suite of services as a glue to unify Xbox One consoles, Windows 10 PCs, mobile devices, and soon even Mixed Reality headsets together. As a result, the Xbox brand has raked in $1.8 billion in its first quarter, and enjoyed a 13% rise in Xbox LIVE users to 53 million.
I foresee Microsoft having a kind of "Game Pass Gold" bundle that allows gamers to play and download a selection of games on all devices, including mobiles, PC, and Xbox One consoles. It'll be interesting to see how this develops, but based on Microsoft's current trends, a tiered subscription system seems likely.
Related Tags