There's a fictional video games system called the Okama Gamesphere in the new South Park game, and every time you turn it on, it needs to update. Sound familiar? It should.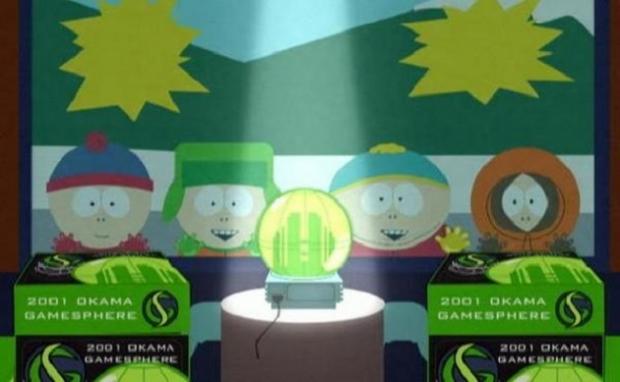 I play my Xbox One about once a month, but it seems every single time I turn it on I have to either download an update of varying size (sometimes as big as 3GB+) to play games online, or do what I normally do and simply play offline. It's frustrating as hell, and Microsoft has been lambasted for it left and right, but now they've officially been lampooned for it by the masters of parody.
In the new South Park: The Fractured But Whole game from Ubisoft San Francisco and South Park Studios, the player character (The New Kid, aka the Farting Vigilante, ButtLord, and/or The Amazing Butthole) has an Okama Gamesphere in his room. Older fans will remember the Okama Gamesphere; it's a bit obscure in South Park lore, a golden oldie.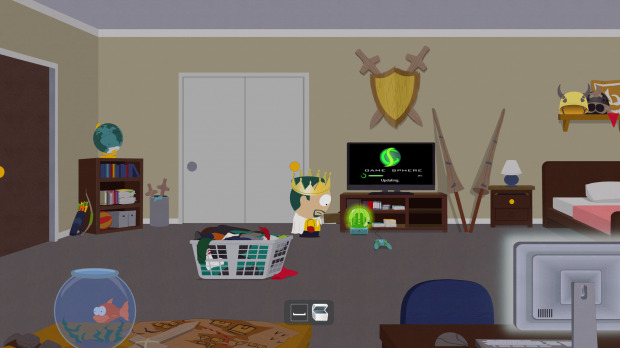 The first thing I did when I saw this mystical relic from the past was try to activate it, and lo and behold, it turned on within the game. I was hoping I'd be able to play South Park 64 or maybe an instance of Chef's Luv Shack just for kicks, and experience one of those awesome fourth-wall breaking playing-video-games-inside-a-video-game moment. Alas something better happened: the system started up and instantly went to an update screen.
But it gets better. The system never finishes its update, which is obviously a parody on today's frustrating console gaming landscape. I left my character's Okama Gamesphere on, left the room, and went adventuring across the town, farting on bad guys and battling Professor Chaos. And every time I came back, the Okama Gamesphere was still on, and still at 24% updating. Every single time. You never get to actually play the damn thing, and it's forever frozen on the update screen.
The new South Park game is filled with neat little tidbits, nods, and features that capture your eye while playing. We'll have our official review for South Park: The Fractured But Whole up soon, so you'll get an idea of what the game has to offer (spoiler: it's really good and any devout South Park fan needs to give it a whirl).