Cuphead is perfect for the Switch
Cuphead amiibos when?
Published Oct 4, 2017 5:20 PM CDT
|
Updated Tue, Nov 3 2020 11:53 AM CST
2 minutes & 13 seconds read time
Cuphead is a nice fit for Nintendo's new Switch handheld-console hybrid, and here's why.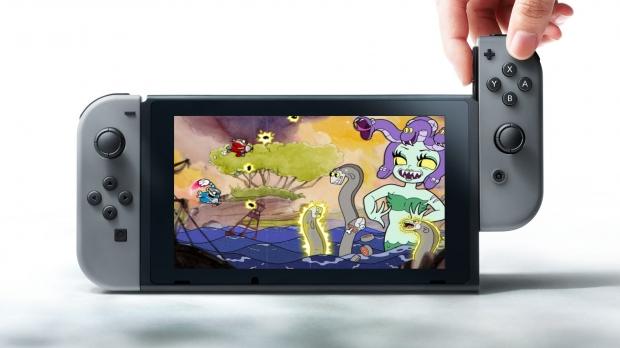 After years of development and two delays, Studio MDHR's Cuphead is finally out in the wild, 1930's cartoon style and all. And it's since become a smash hit. Since Microsoft helped fund the project with its ID@Xbox program the game may not come to the Switch nor the PS4...but it's a perfect fit for the former.
With its enamoring style, Cuphead will instantly attract anyone in the room. I've shown Cuphead to about a dozen non-gamers in my life, and they all liked it--they smiled and asked me what it's from. They all wanted to know more about this delightful-looking visual experience starring two anthropomorphic beverage brothers. This folds neatly into a byproduct of the Switch: engagement.
Nintendo's Switch handheld-console is designed as a portable engagement machine that not only turns heads from its unique appearance, but the games show on its small screen puts smiles on faces. Lots of people want a Switch right now, and when they see one, it can really attract strangers over and acts as a nice social ice-breaker. But the real great thing about the Switch is that two people can play it at any time (game-specific, of course). Cuphead is one of these games. With this in mind the Switch is a portable demo and engagement building system that not only gives free press and advertising to Nintendo, but whichever games are played--in this case, Cuphead. You could take the Switch to a park and have people come by to try out a few levels with you in Cuphead, delivering double-duty: beautiful smile-inducing style with the friend-building experiences that co-op games build.
Read Also: Nintendo Switch Review
Another reason why the Switch would be great for Cuphead is pretty much the reason gamers buy the console to begin with: mobility. Beat a boss while at home and undock the Switch to play the new Cuphead world on-the-go; this seamless switching between two gaming form factors is the console's biggest selling point, and works well for Cuphead (as well as other games).
Finally we have Cuphead's difficulty, which expands the game beyond typical linear titles. In Cuphead players are constantly challenged with gruelingly difficult levels and bosses, and as a result, the game can provide an experience that lasts longer than most indies--especially if you spend a lot of time dying. These games really have a life of their own that's different on a player-to-player basis, and often necessitates co-op, which folds into reason one. Since Cuphead is hard as nails, you'll play it much more than you would other platformer-style games, and you'll likely bond with a friend (or even a stranger) as you take down tough bosses.
I'm hoping Cuphead can find its way onto the Nintendo Switch at some point, but for now it's providing a tremendously tough--but enjoyable--experience for gamers all across the world.
Related Tags