Analyst: Xbox One X to sell 1 million units this holiday
Microsoft will sell about 1 million Xbox One X consoles this holiday season according to industry analyst Michael Pachter.

Published Tue, Sep 5 2017 3:14 PM CDT
|
Updated Tue, Nov 3 2020 11:54 AM CST
At $499, Microsoft's new 4K-ready Xbox One X lacks mass-market appeal, says industry analyst Michael Pachter.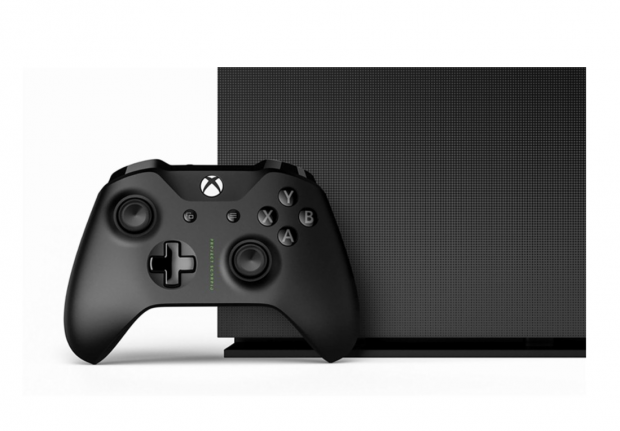 While Microsoft has touted the Xbox One X is the fastest-selling pre-order in Xbox history and assets launch systems may be sold out due to excessive demand, key industry figures are more skeptical on the system's widespread appeal. It's true that Xbox division head Phil Spencer said the new 4K model isn't for everyone, and that he full expects the $250 Xbox One S to outsell the new enthusiast system, and now Wedbush Securities analyst Michael Pachter has delivered some sales predictions to reflect this point.
According to the renowned analyst, the Xbox One X will sell up to 1 million units across the holiday season after the system is launched in November. "My estimate is 1 million global units at holiday. Don't "want" it to fail, think that is the right number. 1 million is not a huge success," Mr. Pachter wrote on Twitter.
What's more interesting is that Mr. Pachter predicts that 80% of users who buy an Xbox One X, or 800,000 consumers, will be existing Xbox One owners who are upgrading from either an Xbox One or Xbox One S.
"I would bet of the first million Xbox One X's sold, I'd bet 800,000 of those buyers own an Xbox One right now. I can't see why the Xbox One X would be anyone's very first Xbox when you can get an Xbox One S for half the price," Wedbush Securities analyst Michael Pachter said in a recent episode of Pachter Factor.
This assertion owes itself to a few points including brand loyalty, 4K TV ownership, and the biggest one, Gamestop's new trade-in promo that allows existing Xbox One owners to shave off up to $200 off the Xbox One X's $499 price tag, effectively lowering the cost to $200.
Analyst firm DFC Intelligence concurs with Mr. Pachter's affirmations that the Xbox One X targets a small group of core enthusiasts instead of mass-market consumers. In fact, DFC Intelligence predicts that the Xbox One family of consoles won't hit 63 million units sold worldwide until 2021--for reference Sony has already sold over 60 million PlayStation 4 consoles.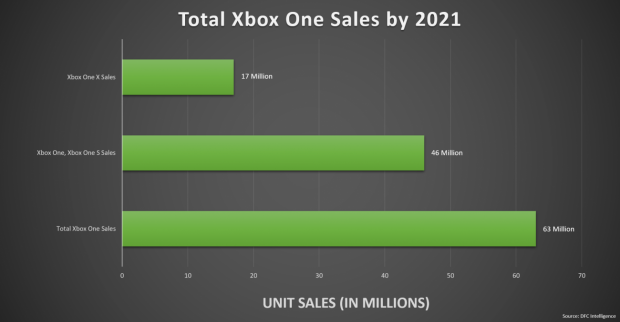 "Xbox One X is an expensive system designed to appeal to a fairly narrow demographic of gamers who want high quality graphics but do not want to spend money on a high-end PC," said DFC analyst David Cole.
"The challenge is that is a fairly small addressable market, even as sales of 4K television sets start to soar. Both the Nintendo Switch or Sony PlayStation 4 offer a very strong value proposition that consumers seem to be flocking towards."
"Furthermore, the leap from 1080 to 4K resolution is simply not as revolutionary as the previous movement from standard definition to high definition."
As a counterpoint, analyst firm Futuresource forecasts the Xbox One X will drive total game sales in 2017.
Microsoft's latest premium $499 Xbox One X system will catalyze game sales on the Xbox One family of consoles throughout 2017, analyst firm FutureSource Consulting forecasts.
According to FutureSource, total Xbox One game sales are expected to rise by 17% to 70 million throughout 2017 with the bulk of game sales happening in Q4 to coincide with the Xbox One X's launch. PS4 game sales are expected to only jump by 3%, however Sony expects to sell 18 million more PS4 units in the fiscal year ending March 2018, bringing the total sales to 68 million units.
Microsoft's new 4K-ready Xbox One X console launches on November 7, 2017 for $499.
Related Tags