ARK gets new expansion, hasn't even been out for a week
Studio Wildcard reveals a new colorful ARK: Aberration expansion that melds fantasy with sci-fi.

Published Sat, Sep 2 2017 1:29 PM CDT
|
Updated Tue, Nov 3 2020 11:54 AM CST
ARK: Survival Evolved's final $59.99 version hasn't been out for a week yet and Studio Wildcard is already planning to release a new expansion next month.
The new ARK expansion is called Aberration, and marks the second major expansion for the massively popular MMO after the controversial Scorched Earth, which was released while the game was still in early access. Aberration sees players entering a new derelict ARK with a unique subterranean biome full of exotic and vibrant color, bizarre creatures, new sci-fi weapons, wingsuits, and much more. The expansion even borrows from the Alien franchise as you'll be able to tame a new creature called the Nameless Queen and "impregnate your foes with a horrifying reproductive chest-burster."
The new Aberration expansion pack will release sometime on October on PS4, Xbox One and PC, and requires the full $59.99 version of ARK: Survival Evolved to play.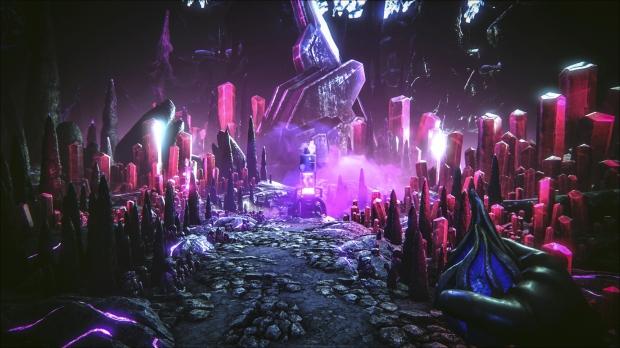 Craft Over 50 Unique Items

Traverse this new ARK using cave-climbing picks, gliding wingsuits, and ziplines. Learn advanced engrams to dominate the harsh environment, protect yourself with hazmat outfits, charge lanterns, explosive rounds, batteries, glowsticks, railguns and much more. Thrive by gathering new resources, using fishing baskets, gas collectors, fortify your home within the caverns using cliff structures, and much more!

Conquer New Challenges

With the maintenance systems of this new ARK malfunctioning, earthquakes, radiation exposure, gas leaks, and Element chambers are among the many hazards that survivors will learn to grapple with Aberration's varied biomes, both aboveground and below the surface. Among Aberration's greatest challenges is the hierarchy of 'Nameless': unrelenting, Element-infused monstrosities, requiring constant vigilance to defend against! And in the deepest depths of Aberration, their terrifying master awaits... will you be among the survivors powerful enough to face it?

Tame New Creatures

The intense radiation of Aberration has led to incredible genetic mutations, resulting in new creatures with amazing abilities! Clamber up walls & glide through the air on the back of a camouflaging chameleon-like 'Rock Drake', keep the dark at bay with a friendly 'Lantern Pug', or grab and toss multiple creatures simultaneously with a massive 'Cave Crustacean', or - if you are talented enough to tame one - command the vile 'Nameless Queen' to impregnate your foes with a horrifying reproductive chest-burster!
Related Tags