Gravity-defying FPS Lawbreakers may crash to the ground
If these open beta stats are any indication, Boss Key's new FPS might end up crashing like Battleborn.

Published Tue, Jul 11 2017 6:22 PM CDT
|
Updated Tue, Nov 3 2020 11:54 AM CST
Ex-Gears of War designer's new arena FPS Lawbreakers may have gravity-defying combat, but it could still crash to the ground.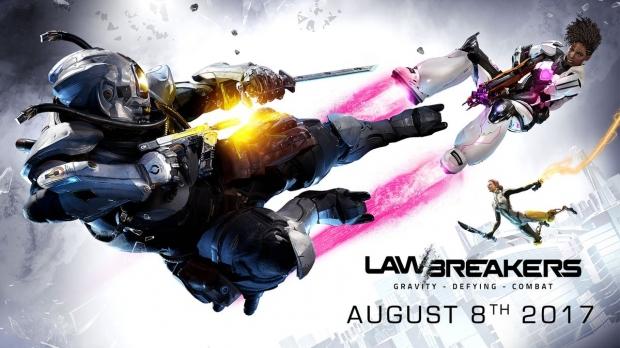 Blizzard's Overwatch typically dominates today's class-based shooters. 2K and Gearbox tried to squeeze into the sidelines with Battleborn only to be crushed and forced into free-to-play territory just to stay alive. If recent beta stats are any indication, Boss Key Productions' new shooter Lawbreakers could follow the same unfortunate path as its now F2P forebear.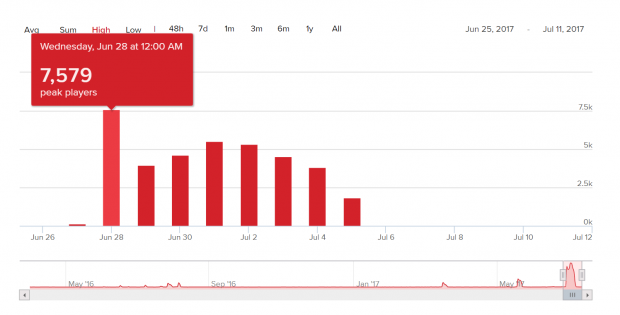 Even during its free open beta test, Githyp notes that Lawbreakers failed to attract a strong flow of users on Steam. Over its eight-day period the Lawbreakers open beta saw a peak of 7,500 users per hour when it kicked off on June 28, and the player count steadily declined over the next seven days to an average of about 3,500 players per hour. On the last day of the beta there were about 1800 peak PPH.
As the Steam metric tracking site reports, these numbers meant Lawbreakers didn't even crack Steam's top 50 most played games during that week--it only hit number 73.
These numbers bring to mind Battleborn's launch playerbase, which ebbed away into the dismal state it's in now--even with its free-to-play strategy the game saw only 243 peak players in the last 24 hours.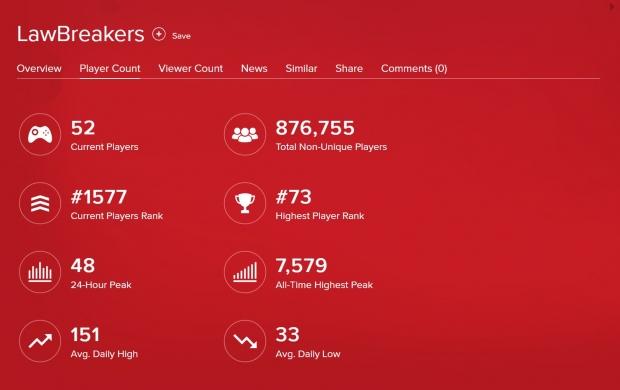 Lawbreakers' $30 price tag might be its biggest downfall. While Boss Key promises that all future content will be free, the game will likely go into a free-to-play based monetization path to sustain itself shortly after launch if, of course, the game releases to such a limited playerbase. Remember, Battleborn once sold for $59.99 and quickly dropped...and dropped...and then became free.
Furthermore, Lawbreakers isn't launching on Microsoft's Xbox One and won't have cross-play on PS4 and PC, both of which will have a tremendous impact on per-platform playerbase.
Of course there's no way of knowing if Lawbreakers will succeed or fail. Open beta numbers don't reflect actual retail sales, but they do reflect interest, at least on the PC side...but also remember the Steam Summer Sale had just kicked off so gamers were probably quite busy.
In any case, we're hoping that this ambitious FPS isn't yet another casualty of the Paladins/Overwatch tag-team juggernaut.
Lawbreakers is slated to release August 8, 2017 for $29.99 on PS4 and PC.
Related Tags