RUST dev shows how Steam refunds impact sales & earnings
RUST has been refunded 320, 970 times, amounting to over $4 million in losses, but this doesn't have a big negative impact on total sales.

Published Thu, Jun 29 2017 5:31 PM CDT
|
Updated Tue, Nov 3 2020 11:55 AM CST
Thanks to RUST developer Garry Newman, everyday gamers get a glimpse into how Steam's refund system can affect sales of any widely popular game.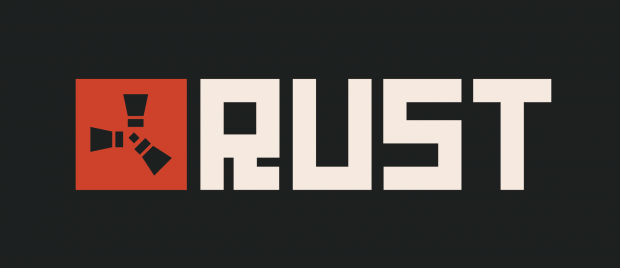 Newman, who's responsible for popular games such as Garry's Mod and RUST, is one of the thousands of developers and publishers that has to deal with refunds. As PC GamesN rightly puts it, an actual game sale on Steam doesn't mean that money will actually stay in the developer's pocket--there's a chance players will simply refund the game before the allotted limit and get their money back. Newman recently revealed that RUST has been refunded 329,970 times, amounting to a loss of over $4 million.
Added sales stats to our backend today. These are Rust's real Steam Refund figures. pic.twitter.com/IhjUsJUN9N

— Garry Newman (@garrynewman) June 28, 2017
A $4 million loss in potential sales will certainly make any developer or publisher wince, but this is simply the reality of selling games on Steam (and, more recently, on Xbox LIVE). However, Newman affirms that refunds make up just 6% of RUST's 5.5 million total sales.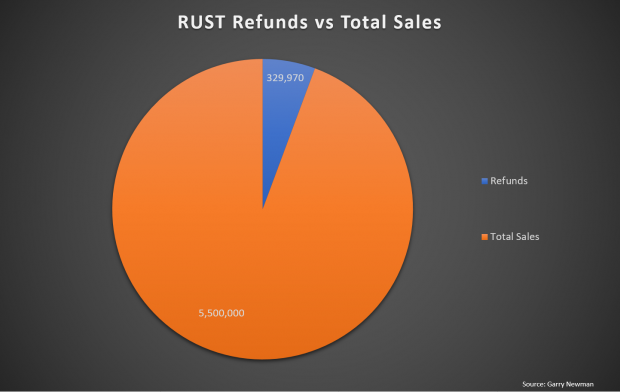 A few quick calculations show that Newman may have pulled in an estimated $77 million from RUST's 5.5 million sales, assuming of course that every purchase was the full $19.99 asking price. That's after Valve's 30% fee.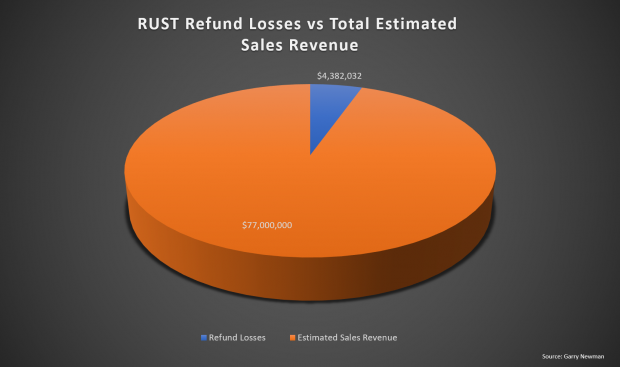 According to Newman, gamers use Steam's refund system as a kind of demo to gauge their interest in the game. He asserts that the refund system has probably gained them more sales simply because users are more likely to buy into something and try it out if they know there's a chance to get their money back, and a good portion of them end up staying.
"I put that down to people using the refund system as a demo," Newman told PCGamesN "I think in the long run, people knowing the refund system is there probably gained us more sales than it lost us."
Related Tags