Super Mario Odyssey co-op looks like tons of fun
Nintendo showcases co-op for Super Mario Odyssey, the premiere first-party game on the Nintendo Switch.
Published
4 minute read time
E3 2017 - Nintendo's new Super Mario Odyssey looks to be the most exciting Nintendo Switch exclusive the platform has to offer, and the Japanese games-maker highlights how two players can team up and play within the unique 3D platforming world.
As we previously reported, Super Mario Odyssey will have co-op on the Nintendo Switch. Players can detach both of the Switch's included JoyCon controllers and play co-operative two-player on-the-go in Tabletop Mode, or at home in TV Mode. One player will control Mario while the other controls Cappy, Mario's trusty hat. The two-player dynamic is surprisingly fun and deep: Mario can jump on Cappy to close long distances, and Cappy can protect Mario from enemies as well as collect items.
Nintendo Treehouse showcased some of Super Mario Odyssey's two player co-operative mode in a recent video to highlight some of the more entertaining features. While co-op isn't the star of the show perse, it has a very big effect on gameplay, especially certain in-game areas.
Here are some notes from the co-op live stream session:
Cappy Mario can be used to collect items like puzzle notes and coins.

Cappy is invincible and can protect Mario by attacking enemies.

Both players have camera control in co-op mode.
"When you throw Cappy he's invincible. We thought that'd be a really good way for people who aren't used to games to be able to play with someone who's a little more advanced. Knowing they won't get hurt it's easier for them to give it a try," Super Mario Odyssey Producer Yoshiaki Koizumi said during the live stream.
Mario can jump on Cappy's head to close distances and allow players to access hard-to-reach places. This will be possible in one-player, too, but it's much more intuitive with two players.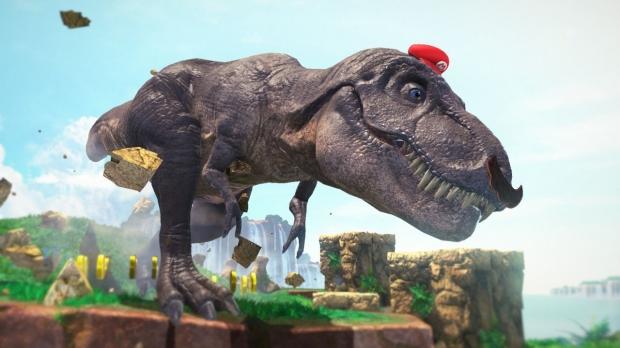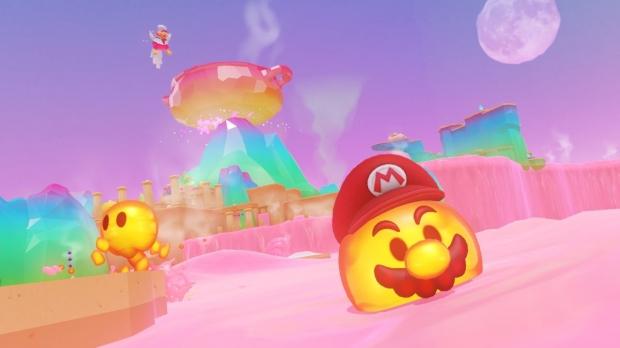 "Co-op was a real natural evolution for us in terms of development because we know we wanted Mario to be able to throw something. Then we thought 'well he's always wearing his hat' so what if he just throws his hat? That'd be great," Mr. Koizumi said.
"Once we got to that point, we realized that people would have more of an emotional attachment if it was also a character. And then when we realized he was also a character we thought he should also be able to move around himself. So multiplayer just really fell into place."
Super Mario Odyssey's "kingdoms" have open ended environments filled with things to explore and find, from collectibles to interactive content that opens up new areas in the game

Players can ride "Jaxis," four-legged animals that run fast, to explore areas more quickly. Kind of like a horse in Zelda: Breath of the Wild, but much quicker.

Mario can go down pipes, sinkholes, sewer caps and other areas in the enviroment to get to 3D or 2D style platforming puzzle areas, almost like Zelda's shrines.

Mario can wall-jump.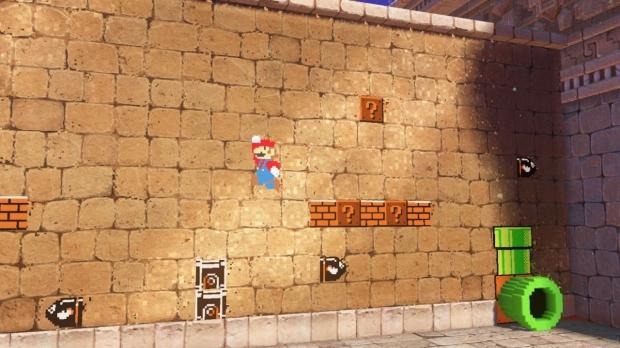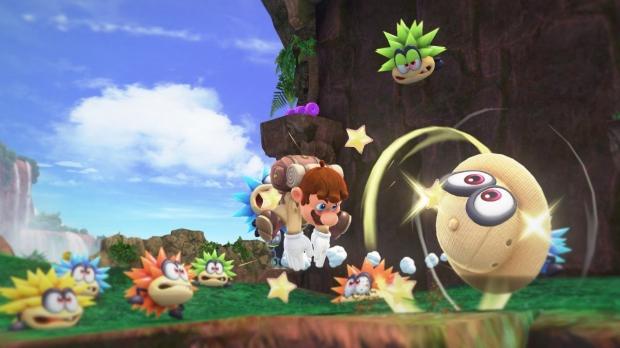 "The theme of this game is surprises. In previous Mario worlds we had Dino Island and Dino Land. What we wanted to try for this game was a different design of dinosaur, something we haven't seen in a Mario game before."
Mario can "capture" enemies and objects in the game with his hat, and then take control of them.

This replaces traditional power-ups in the game.

Playing as certain enemies, gamers can access different areas and do all kinds of unique things to solve puzzles and beat levels.

Players have to knock the helmets or headwear off of enemies before they can capture or "possess" them
"The point I've been making the last three days at E3 is that Super Mario Odyssey on Nintendo Switch is a game you can play any time, anywhere with anyone. And I hope everyone has fun looking for all the discoveries and surprises the game has to offer," Super Mario Odyssey Producer Yoshiaki Koizumi said.
Super Mario Odyssey will release October 27, 2017 exclusively on the Nintendo Switch console.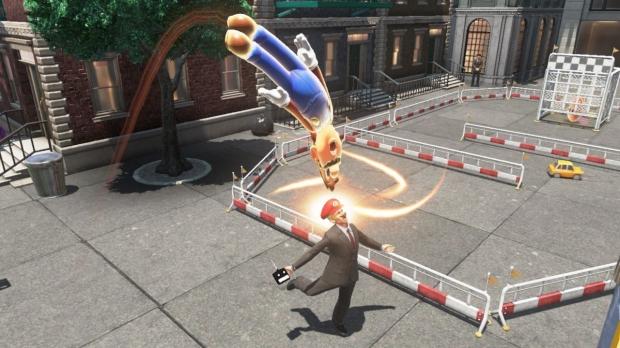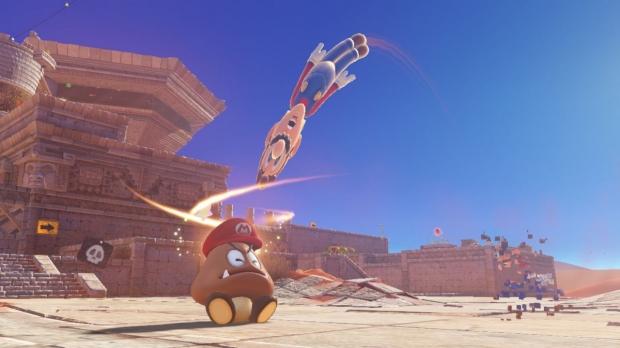 Check below for a huge list of information about Super Mario Odyssey:
Join Mario on a massive, globe-trotting #D adventure and use his incredible new abilities to collect Moons so you can power up your ariship, the Odyssey, and rescure Princess Peach from Bowser's wedding plans! This sandbox-style 3D mario adventure--the first since 1996's beloved Super Mario 64 and 2002's Nintendo GameCube classic Super Mario sunshine--is packed with secrets and surprises, and with Mario's new moves like cap throw, cap jump, and capture, you'll have fun and exciting gameplay experiences unlike anything you've enjoyed in a Mario game before.

Get ready to be whisked away to strange and amazing places far from the Mushroom Kingdom!

Explore huge 3D kingdoms filled with secrets and surprises, including costumes for Mario and lots of ways to interact with the diverse environments, such as crusing around them in vehicles that incorporate the HD Reumble feature of the JoyCon controller or exploring sections as Pixel Mario.

Thanks to his new friend Cappy, Mario has brand-new moves for you to master, like the cap throw, cap jump, and cap-ture. With capture, Mario can take controler of all sorts of things, including objects and enemies!

Visit astonishing new locales like skyscraper-packed New Donk City, and run into familiar friends and foes as you try to save Princess Peach from Bowser's clutches and foil his dastardly wedding plans.
Related Tags