Assassin's Creed: Origins has deep RPG progression
Ubisoft's new Assassin's Creed: Origins has a deep level of RPG progression and loot mechanics.

Published Wed, Jun 14 2017 6:31 PM CDT
|
Updated Tue, Nov 3 2020 11:55 AM CST
E3 2017 - Ubisoft has gone all out and re-invigorates the franchise with Assassin's Creed: Origins, adding in key action RPG elements with an emphasis on freedom, immersion, dynamism and action. Players will be able to customize Bayek as they see fit with a multitude of weapons and skillsets.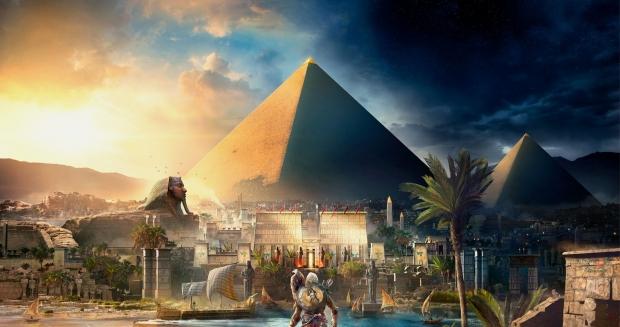 Assassin's Creed: Origins has a much deeper progression system than other Assassin's Creed games, and Ubisoft Montreal has infused the game with huge RPG elements. Not only can gamers collect a wide variety of weapons and armors that all have different properties, attributes, and rarities, but they can customize Bayek's abilities via a diverse and branching hybrid "ability graph" skill tree. Ubisoft opens up on what this ability graph offers, and touches upon the weapons that will be featured in their new ancient Egypt playground.
"This is the ability graph. On one side is the seer aspect of the graph is really about manipulation, manipulating your enemies and animals to get the job done. The center is about being a warrior. On the left side is the hunter path which is really about either being an archer or being a stealthy assassin," Ashraf Ismail, Game Director at Ubisoft Montreal said during the E3 Coliseum event panel.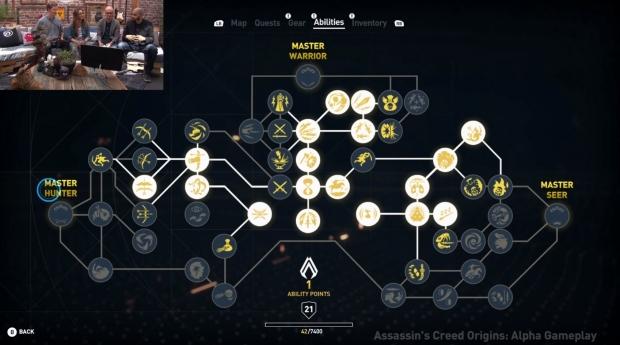 "You can dedicate yourself in any direction. The reason it's a graph is that we wanted for players to be able to form their own path. Maybe you want to be a mix between two styles, or three styles. The thing is every tree, every part of the graph has an end node that you can keep pumping points into."
"If you want to focus on being the ultimate warrior, you can do that, or you can spread yourself out. It's totally up to you."
"We enhanced the gameplay by incorporating Action-RPG elements that support finding weapons with different rarities, levels, stats and visuals and ensure each unique weapon impacted gameplay appropriately. So how the character's overall level compares to the ones of enemies is a key factor in the experience. As a player, you now have to carefully consider and choose what are the abilities, gear and crafting decisions that define your Assassin."
The ability graph offers the chance for many different builds including:
The brutal melee warrior going in recklessly

The archer staying back and going for headshots

The manipulator using tools, poisons, animals to do their dirty work

Or the stealthy Assassin taking their enemies out unaware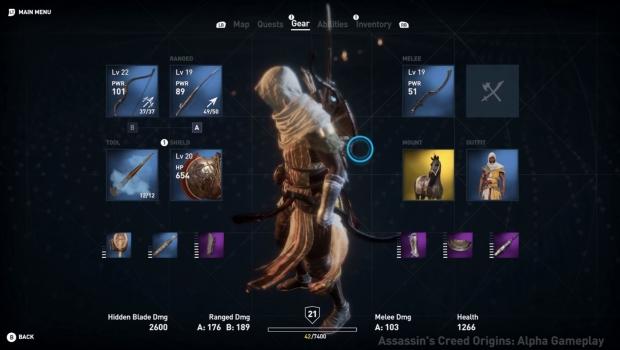 Weapons, gear and loot
"This new paradigm also translates in the RPG dimension of the experience. Not only do weapons differ in size and speed, they also come with their own specific statistics, attributes and rarity levels, from Common to Legendary. A Legendary Hunter Bow will be much deadlier than a common one and might have some special abilities such as a better chance of critical hit. All those changes contribute to the same goal: give players control, depth and freedom in the way they fight for a thrilling and challenging combat experience."
Assassin's Creed: Origins has a multitude of different weapons and armors to choose from, complete with unique stats, rarities and more. For example, items come in Common and Legendary rarity, and Legendary items have a chance to include passive bonuses. Weapons don't have a durability system, which is awesome, and you can even poison them or set them on fire to trigger different effects.
Weapons and gear are leveled in the game. A level 1 common sword will naturally do less damage than, say, a level 10 rare sword. Bayek can use a smattering of weapon classes including spears, dual swords, bows, hidden blades, and two-handed bardiches to name a few--all of which are leveled appropriately and infused with rarities, properties, and attributes.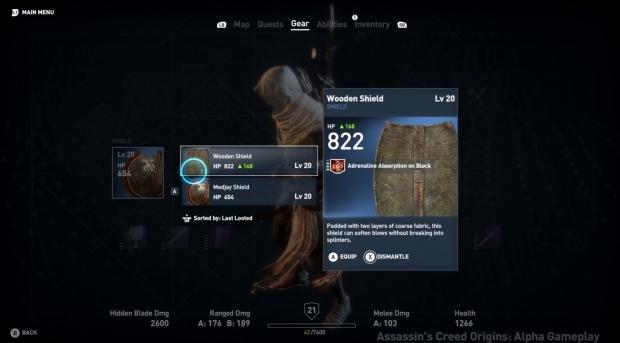 "Gear really matters, the level of the gear, the types of gear. The gear have stats, they have attributes and properties, and they have rarities," Ismail said.
"So the more rare the weapon, the legendary weapons, they have more attributes, more properties. Fighting with a Khopesh Sword that does bleeding damage is drastically different than a spear that has a poison tip. This really matters as you start getting deeper into the combat of the game," Ismail says.
Players will also be able to fortify Bayek's weapons with the in-game crafting system. Crafting items can be earned from killing predators like crocodiles, for example, and various other means. Fortifying and upgrading your weapons via the crafting system is integral to progression and taking on increasingly difficult enemies.
Luckily fortifying doesn't mean we'll have to repair weapons. Your armament won't shatter or break like in Zelda: Breath of the Wild.
"Weapons don't have durability or destructibility. We wanted to focus instead on finding new loot and new levels of loot. There's many different kinds of loot and weapons," Ismail said at the showcase, answering a fan's question.
"There's eight categories for melee weapons and four categories for ranged weapons and each one has a drastically different playstyle. What we want players to do is that every time they find a new type of weapon, they start understanding how it works and understand the combos you can do with them and find the playstyle you prefer. "
"And after that it's all about levels, attributes and properties. So at the beginning of the game you're going to learn what it's like to fight with a spear versus dual swords, which are super fast but you have to get in close."
Ismail affirms that Ubisoft Montreal has planned out a kind of universal progression for players that's organic and layered, and always offers new opportunities for immersion and unique experiences.
"Eventually you're going to start getting rare weapons, and at that point you're going to start seeing 'okay, a poison-tipped spear is even more different, or a weapon that does bleeding damage, or a weapon that you can light on fire."
"These are the elements that as the game progreses we wanted players to always be proposed new depth, new layers of thinking. We played around with the idea of durability but it wasn't comfortable for us."
Assassin's Creed: Origins will release October 27, 2017 on Xbox One, PS4, and PC. Check here for a ton of info about the upcoming Egypt-based adventure.
Related Tags