Zelda: Breath of the Wild's turbosurfing is tons of fun
Why walk when you can TURBOsurf?!

Published Tue, Apr 18 2017 5:20 PM CDT
|
Updated Tue, Nov 3 2020 11:55 AM CST
Zelda: Breath of the Wild players are some of the creative gamers in existence. We've seen so many different methods to turn Hyrule into a playground of fun, and players are constantly finding new ways to push the limits of its dynamic physics. Enter "turbosurfing," the fun way to exploit waterskimming by turning your raft into a rocket-powered blur.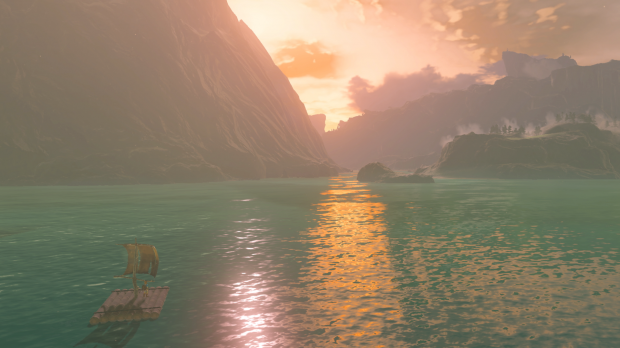 So what is "turbosurfing," and how do you do it? Just grab a minecart--or a metal object that's biggish, a metal box should work too--and simply grab it with magnesis and jam it against a raft's sail. Voila! Now you're skimming in no time. This is a nice method to sail across the seas if you don't have a korok leaf.
Now it's worth mentioning that players have been doing this method for quite a while, and it'd be quite a difficult task finding out who exactly did what first. But this little tidbit comes by way of a Russian YouTuber, and I'm quite enthusiastic about trying this out.
Earphones warning! The clip can be rather loud at times.
I've always loved sailing around Breath of the Wild's coast, and when I found the Eventide island shrine, I just about flipped out. This game has so many slices of awesomeness strewn across its massive landmass, and I just love how it gives you a natural reason to explore the world.
Have you found some awesome tips or tricks in Zelda: Breath of the Wild? Let us know in the comments below!
Related Tags