Minecraft will soon have microtransactions
Microsoft's finally done it: they've introduced microtransactions into Minecraft.

Published Mon, Apr 10 2017 9:13 AM CDT
|
Updated Tue, Nov 3 2020 11:56 AM CST
Well Microsoft, you've finally done it. Not content with shoving gambling-style microtransactions in its biggest games (Halo 5 and Gears of War 4), Microsoft unloads a new money-making strategy onto Minecraft, the indie sensation that will soon have its own virtual currency (because why not?!). Minecraft's new strategy culminates with a new storefront and virtual currency combo that will let users buy skins, textures and other content made by their favorite creators.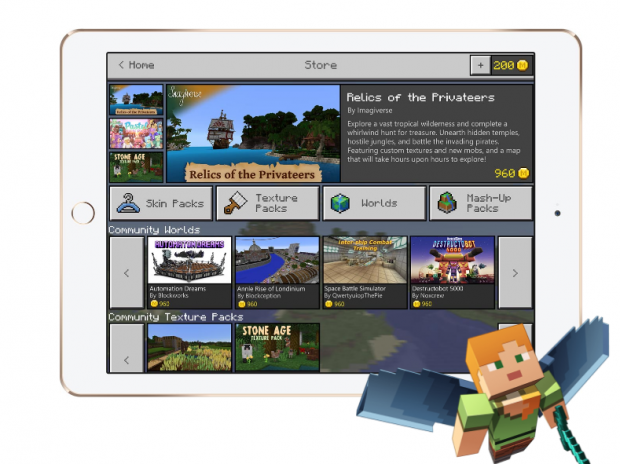 Minecraft's new digital storefront allows creators and modders sell their user-created maps, mini-games, and skins for virtual currency called Minecraft Coins. These coins can be purchased with real life cash in denominations of 300 MC for $1.99, 840 MC for $4.99, and 1,720 coins for $9.99. Creators earn the lion's share of the sales at over 50%, and 30% goes back to the storefront.
"The idea is to give Minecraft creators another way to make a living from the game, allowing them to support themselves in the creation of ever-greater projects, while giving Pocket and Windows 10 players access to a growing catalogue of fun stuff - curated and supplied by us, safely and simply," Microsoft says.
Before we freak out too much, Minecraft's digital currency won't be available on consoles or the original Java PC flavor--only the "Bedrock Edition" on Windows 10 phones and tablets.
The Minecraft Marketplace will launch with adventure maps, texture packs, minigames and more from big-name creators like Noxcrew, BlockWorks, Qwertyuiop The Pie, Blockception, Sphax, Eneija Silverleaf, Imagiverse, Polymaps and Razzleberry Fox.
Microsoft says a public beta will be held on Android in mid-April, and a full-on launch is schedule for "later in Spring." Click here for more info.
Related Tags