Report: Sony made publishers hide PS4 game install sizes
Sony reportedly put early PS4 owners through lots of misdirection and frustration to keep up their 'promise' of playing games as you download them.

Published Tue, Mar 21 2017 8:12 AM CDT
|
Updated Tue, Nov 3 2020 11:56 AM CST
Back in 2013, Sony made a big deal about the PS4 being able to play games as you download them--play as you download, or Play Now, as it was called. It sounded great on paper, but in practice, it was quite frustrating to early adopters, and now we might know why: Sony might have made publishers literally obfuscate the install progress of digital games.
Even four years later in 2017, digital downloads on consoles aren't where they need to be. Both PSN and Xbox LIVE are slow and clunky--but it was much worse back in the old days. At the PS4's hey-day, Sony apparently mandated that games publishers hide the actual download install rates of digital games and just show the "Play Now" progress. I can confirm this happened. I still remember downloading all 50GBs of Wolfenstein: The New Order on PS4 back in June 2014 and my PS4 literally lying to me and telling me the game was "installed". About 20 minutes in my gameplay was interrupted with a message telling me the install wasn't finished. You actually used to have to jump through a bunch of menus just to see how much progress your downloads had made.
Interestingly enough, Jim Sterling might've uncovered who's to blame for this: Sony themselves.
"According to a source I have at a publisher, Sony mandated the games aren't allowed to immediately reveal they're not yet ready to play. This orders publishers to make their games appear ready even when they're not. The idea behind this is for Sony to maintain the appearance of fulfilling that promise of playing games before they're fully downloaded," Sterling said in a recent Jimquisition episode.
Some games like Battlefront and Plants vs Zombies: Garden Warfare would push you into a special slice of the game for you to play as the game continued to download. The game never even told you you were playing a small "demo" of sorts and that the game itself hadn't fully installed--you were just zapped to these areas without warning or explanation.
Final Fantasy 15 is a recent example of unique Play Now areas and let you play in a little arena and fight enemies as the full game downloaded. But FF15 still told you exactly how much progress you had left and made it clear this was just a little demo slice and not the full game.
Luckily Sony snapped out of this ridiculous practice and now shows the full download percentages and install rates on the PS4's Downloads section.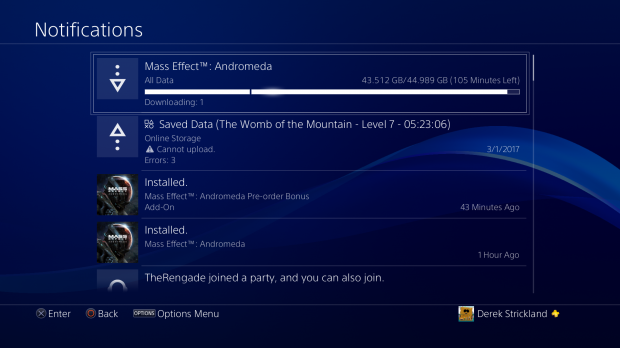 It wasn't always this way, though, and early PS4 adopters soon realized that Sony's Play Now feature was just PR-speak. Having to jump through hoops to find out if your game was done downloading after half a day was really annoying, and I can still remember how "next gen" consoles inconvenienced us at their respective launches.
Sony has gotten better with the PS4 in recent years, but the main point to all of this is not to over-promise and under-deliver major features.
I do think its ironic that the console realm's digital distribution system hasn't really evolved much given gamers shell out $60 a year fro PSN and Xbox LIVE, and Jim makes a good point about how consoles are becoming "less convenient PCs" and slowly killing their own markets by negating convenience features.
In any case, I just wanted to take you guys down memory lane for a bit and show you that next-gen consoles hit more than a few roadbumps at launch, going so far as to misdirect consumers to keep up PR promises.
Related Tags