Nintendo Switch JoyCons work 37 feet away from console
Just how far can the Switch's JoyCon controllers go before disconnecting? The answer may surprise you.

Published Sat, Mar 4 2017 9:37 PM CST
|
Updated Tue, Nov 3 2020 11:56 AM CST
There's reports floating around the Nintendo Switch JoyCons are still having de-sync issues, and we decided to test out the functional range of these nifty wireless gadgets to just how far they could go without disconnecting. And they can go pretty far.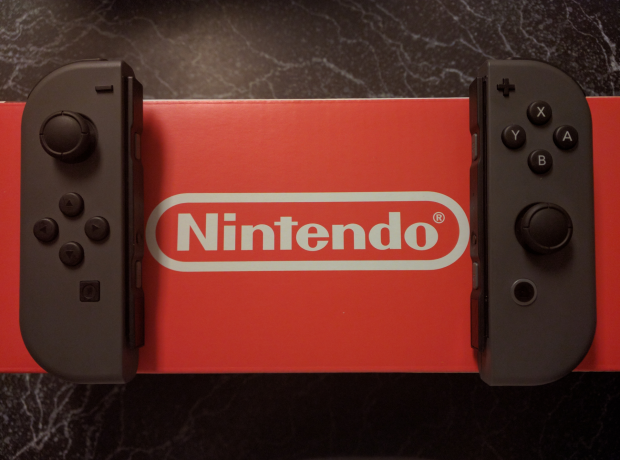 During my time with the Nintendo Switch I've experienced zero de-synchronization issues with the JoyCon controllers (except when I purposefully went out of range for testing purposes). The left JoyCon works flawlessly alongside the right one at ranges in excess of 30 feet--or about 10 meters.
I tested the JoyCons' range in two different ways: both detached in either hand and combined in the JoyCon Grip. The results were the same either way. I also tested the range with the Switch docked in TV Mode, and in Tabletop mode with tablet set up on its kickstand.
Rather than shooting the JoyCons' Bluetooth signal through walls, I stayed in a regular linear path and kept a line of sight with the system,and the system faced me except when it was docked. I managed to get about 37 feet away (11.2 meters) from the system while docked and in Tabletop Mode, before I quite literally ran out of linear space.
In this expanded range the JoyCon controllers worked flawlessly in both the JoyCon Grip and holding each controller in both of my hands. The gyroscopic tracking worked just fine at that range, and even at 37 feet I was able to aim my bow in Zelda: Breath of the Wild using the right JoyCon's sensor.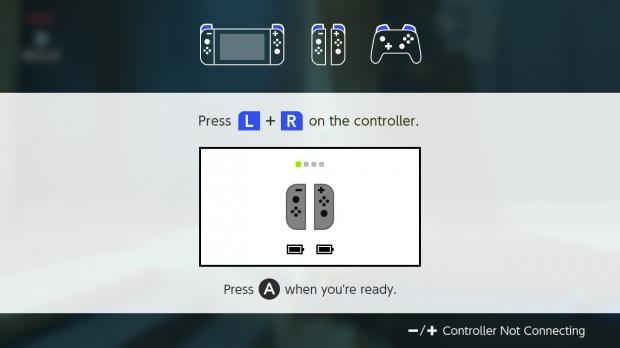 So what about desyncing?
The JoyCons only de-synced when I went around corners and in other rooms opposite where the Switch was docked or kickstand'ed. When that straight line of sight was maintained the devices where tethered consistently. In fact the connection was so persistent that I tried to add in interference to see if I could disrupt the signal.
And when the JoyCons' signals were finally interrupted both controllers disconnected at the same time.
Interestingly enough, when my JoyCons de-synced Breath of the Wild paused while a notification popped up telling me to hold L+R to re-sync the controllers.
I even put the docked Switch behind two powered up, internet-ready laptops to test for interference. There was none. I did the same with multiple working HDTVs and again there was no interference.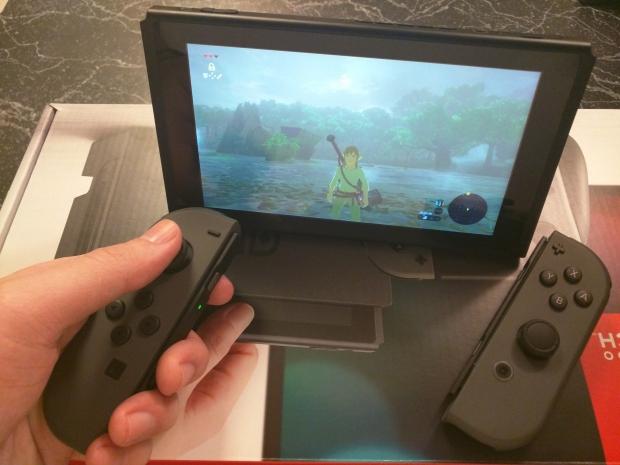 Here are some other things I did that weren't able to interrupt the signal:
Pointing the left JoyCon downwards in TV Mode

Doing the above at 10 feet and 15 feet, as well as pointing it upwards

Standing with my back to the Switch while in TV Mode 10 feet away

Holding the left JoyCon behind my back

Stood 10 feet away and tried to block the left JoyCon signal with my leg, both docked and in tabletop mode

Had two people stand in front of me while I used the JoyCons

Used the Switch in tabletop mode in a car while my phone streamed music to the radio via Bluetooth

Put two laptops close to two TVs and stood in a hallway about 20 feet away while beaming the signal to the Switch while docked

Attempted to block the left JoyCon's signal by cupping my hand around the top of the controller
As you can see, the Nintendo Switch JoyCons have an impressive Bluetooth radio within them. I didn't have any problems with interruptions or de-syncs while playing while the Switch was docked or in Tabletop Mode, and the controllers both have consistent battery life--no erratic discharges, battery life drops, etc.
Despite these results it's important to remember that every single house and play environment is different. My house will be much different than yours so your mileage may vary. And there's a chance that the day one firmware update did alleviate the problems.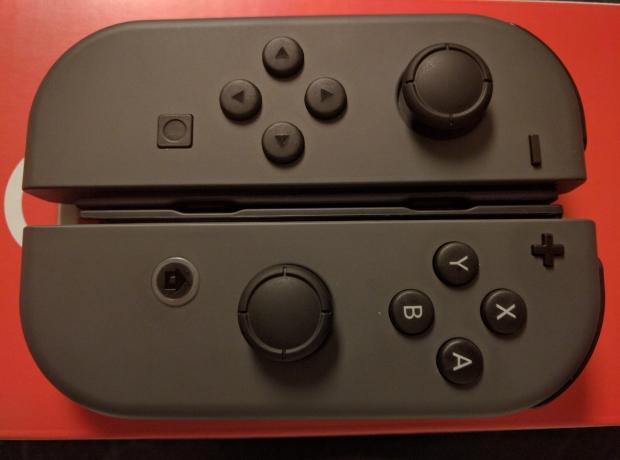 How to reset Nintendo Switch JoyCon controllers and fix desyncing
New Nintendo Switch owners take heed: attach your left and right JoyCons before you initiate the Nintendo Switch's day one firmware update. This could be one of the many culprits of the desync issue.
If you've already set your Switch and your left JoyCon is on the fritz, don't lose hope. There might be an easy fix.
Just turn off the Switch completely (not sleep mode, but the Turn Off option under Power Options), reattach both JoyCons, and reboot. That could fix the problem.
If it doesn't, then we'll have to wait on Nintendo's verdict.
Nintendo has actually delivered a statement on the matter, telling Kotaku the following:
"We have received some reports and are looking into them. As with all Nintendo video game systems, we will continue to monitor the performance of Nintendo Switch hardware and software, and make improvements when necessary."
Related Tags