GDC 2017 - Square Enix's latest tech demo shows Final Fantasy XV running on a high-end PC armed with NVIDIA's supercharged GeForce GTX 1080 Ti graphics card.
Remember when we said Square Enix was experimenting with Final Fantasy XV on PC using dual GTX 1080s in SLI? Now at GDC 2017 we see the fruits of the team's labor, and Final Fantasy XV may be a substantial step closer to a PC release.
The tech demo shows the evolution of Final Fantasy XV's proprietary Luminous Engine, which was used to deliver amazing next-gen performance, visuals, lighting and atmospheric effects even on outdated consoles like the PS4 and Xbox One. But the devs prove that PC is where the RPG will truly shine to a near-blinding luster. The demo taps NVIDIA's GeForce GTX 1080 Ti to deliver amazing power boosts in every regard: dramatically better lighting and animations, real-time shadows, dynamic destructible environments, and even the ability to drive a souped up Regalia anywhere you want.
Game director Hajime Tabata said he wants to push the engine's limits using the top-tier desktop video cards available, and it looks like he's doing just that:
"I'd like to release the game on PC as a technical attempt. I want to show PC users Final Fantasy XV running on high-end machines, and we personally would like to see it, too," Tabata said in a recent interview with Famitsu.
"Also, I would like to try developing on PC to pursue a unique way of playing with PC-exclusive features like making your own quests and enjoying the world using things like mods."
We absolutely can't wait to confirm that Final Fantasy XV will come to PC, but until now we can only look on with eager hopes and widened eyes. But we pretty much know it's coming...I mean just look at that demo!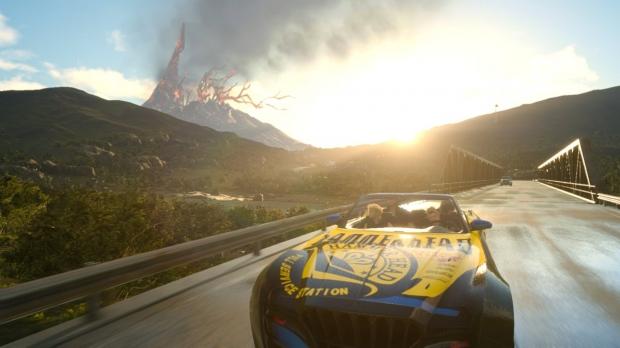 But we still have to tamper our expectations.
This tech demo is nowhere near a finished product--it's merely the devs strutting their stuff and giving us a glimpse of what is possible with insanely powerful hardware--and represents the early foundations of a PC port. A finalized PC release would probably take a year or so, and Tabata warns that it might have "very high minimum requirements" and only be playable on higher-end PC hardware.
"Making a PC version of the game would mean we'd have to readjust a lot of stuff and concentrate solely on developing it, even though the development team has shown interest in getting a PC version out at some point," Tabata said in a recent interview with Hobby Consoles.
However, it does show the team is not only curious what Final Fantasy XV would be like on PC, but actively interested in experimenting on the platform. And that could lead to amazing things, such as a truly definitive version of Square Enix's initial vision.
Final Fantasy XV was absolutely held back by PS4 and Xbox One hardware. The game looks and plays great on these platforms, but there's instances where you can just tell that systems are holding back the game's potential, kind of like caging a ferocious wild beast.
With time, effort and funding, we could have a truly amazing PC port on our hands.