Capcom has just filed a "new" trademark for Deep Down, its online-based fantasy game that was shown off in 2013 but still hasn't released. This news caused a stir in the community as gamers thought it could mean Deep Down may finally be ready sometime soon, but I have some bad news for everyone: this doesn't mean anything.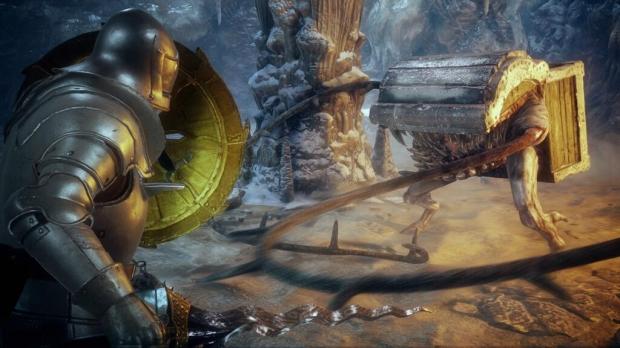 Deep Down's latest trademark filing is a simple re-filing to lock in the game's TM and reduce the cost of further extensions. That's all this trademark means. It doesn't indicate Capcom is any closer or farther to releasing Deep Down. In fact, the two filings are 100% identical--except one has no extensions and a new TEAS RF classification to reduce filing costs. Old filing is here, and the new filing is here.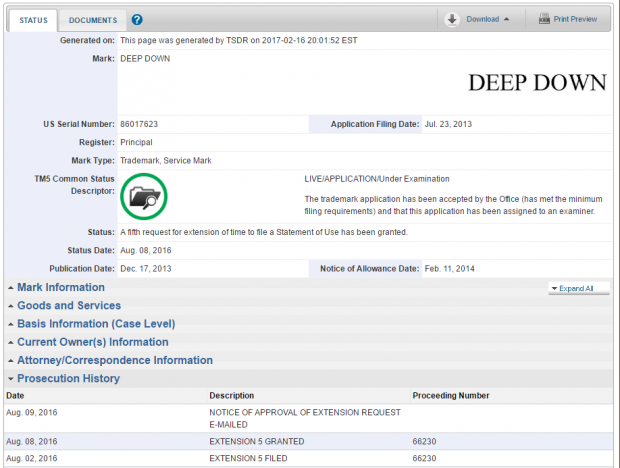 The United States Patent and Trademark Office has granted Capcom five trademark extensions for Deep Down. As clearly indicated here, that's the maximum extension count before a company has to re-file. The extensions are valid for six-month intervals, and Capcom last filed August 9, 2016, which is exactly six months from this new trademark's filing of February 9, 2017.
Capcom is simply re-filing Deep Down's trademark and locking it in--that's all it is, folks.
"If the applicant is not using the mark in commerce on all of the goods/services listed in the notice of allowance, the applicant must file an extension request and the required fee(s) to avoid abandonment. Because extension requests are granted in 6 month increments, applicant must continue to file extension requests every 6 months. A total of 5 extension requests may be filed. The first extension request must be filed within 6 months of the issuance date of the notice of allowance and subsequent requests before the expiration of a previously granted extension."
(Cont. below)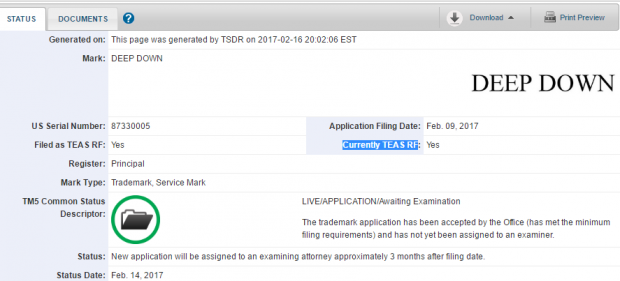 Furthermore Capcom is now using TEAS RF to low the cost of future extensions or filings. Also Deep Down was nowhere to be seen during Capcom's recent investor relations and financial presentations.
This indicates that Deep Down isn't yet ready and probably won't be for a long time. Extension fees can be rather steep and cost as much as $1400 for trademarks.
"TEAS RF permits an applicant who files an application for registration of a trademark, service mark, certification mark, collective membership mark, or collective trademark based on §1 or §44 of the Trademark Act, 15 U.S.C. §1051 or §1126, to pay a reduced filing fee of $275 per class, if the applicant:

(1) Files an application, using the USPTO's TEAS RF application, available at https://www.uspto.gov;

(2) Agrees to file certain communications regarding the application, such as responses to Office actions, through TEAS; and

(3) Agrees to receive communications concerning the application by e-mail."
Deep Down was originally announced at E3 2013 and it's been almost four years since Capcom has said anything about the game.
Deep Down is supposed to be a free-to-play online PS4 exclusive set in a distinct fantasy universe, with four-person online co-op play.
Based on the info we've uncovered, I wouldn't expect Deep Down to launch any time soon.